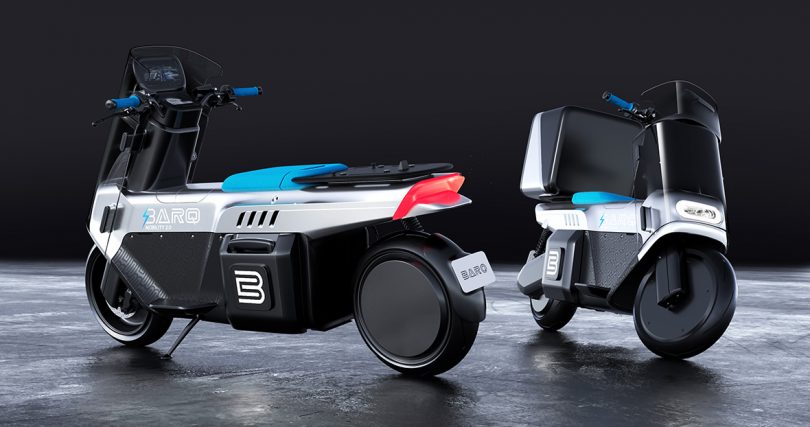 Designed by design and engineering firm CALLUM, the Barq Rena Max electric scooter is a boxy modernist design that's "simple and functional." The two-wheeled electric powered scooter is designed specifically to improve delivery services with features specific to the demands of the task, with tubeless tires designed to minimize punctures, and a lightweight bike architecture maximizing range and improving navigation through tight quarters.
Those with a long memory about mobility might remember a similar scooter design with boxed in dimensions in the cult-classic Honda Motocompo (a design that can only be truly appreciated after watching its early 80s-era commercial).
While the Barq's Rena Max is designed to improve a rider's day-to-day deliveries, it's also engineered to be a capable ride, with a top speed of 60mph/97kph powered by its 9KW electric motor. There's also a reverse gear, multiple riding modes, and an integrated 8-inch touch screen. A swappable battery with a range of up to 150km per charge from a 5.6Kwh lithium unit means delivery riders can switch out and charge back up without waiting.
Abdallah Abu Sheikh, the CEO & Founder of Barq, doesn't mince words about his aspirations for the electric scooter:
The result is astonishing – it's the Tesla of the scooter world…we want to make the first moves with purpose-built vehicles for the middle east and Africa and we have put together the best minds to do it.
Barq plans to roll into production in late 2022, with a goal of manufacturing 50,000 scooters to serve the world's largest commercial motorcycle markets of UAE, Saudi Arabia and Egypt by 2025.
Source: design-milk