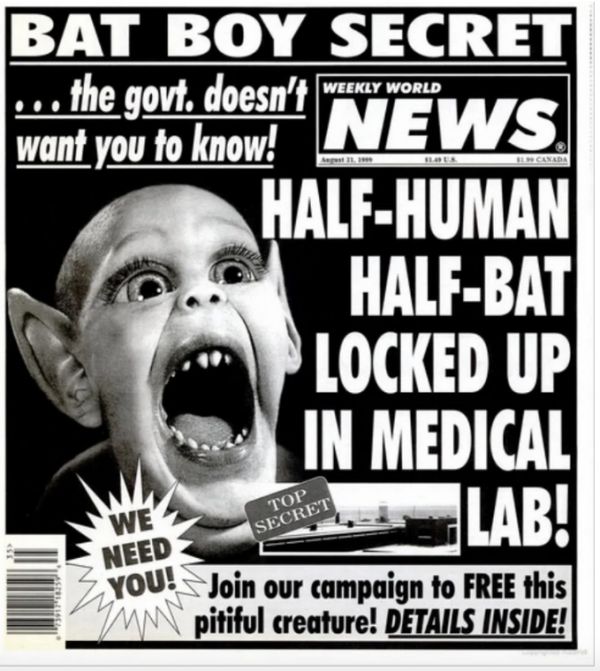 The Weekly World News held a unique place in the supermarket tabloid display as the epitome of fake news. What it lacked in celebrities and color, it made up in sensationalism. The headlines were never believable, and rarely had much to do with the actual story, but they worked because they made you want to read more. For 28 years, the Weekly World News worked to outdo itself, because who doesn't want to know more about Bat Boy, aliens hobnobbing with politicians, and the still-alive Elvis? Strangely, but not surprisingly, the genesis of the tabloid was an attempt to make a buck off obsolete equipment.  
Generoso Pope Jr. could be considered the father of the modern supermarket tabloid newspaper. With the aid of a $25,000 down payment reportedly borrowed from the mob, Pope purchased The New York Evening Enquirer (which later became The National Enquirer) in 1952. The lurid paper specialized in tawdry headlines like "Starving Mom Eats Own Child" before softening its content to gain retail space at grocery stores in the 1970s.

When rival tabloid The Star went to a color format, Pope was forced to follow suit. That left him with an unused black-and-white printing press, which he saw as an opportunity to return to the bizarre news of the early Enquirer. In the summer of 1979, a small staff supervised by editor Phil Bunton, stationed inside the Enquirer offices in Lantana, Florida, began work on what would become Weekly World News.
Mental Floss spoke with more than a dozen former editors, managers, and writers to piece together the story of how the Weekly World News became the king of fake news, which you can read here.  
Source: neatorama