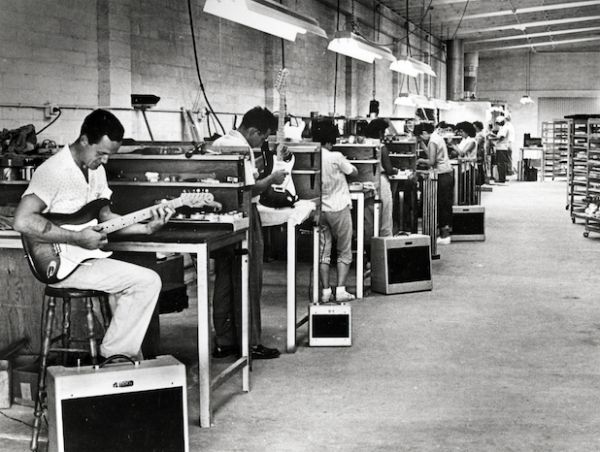 If you want to know who built the first rock 'n' roll guitar, you first must define what a rock 'n' roll guitar really is. If we mean solid-body electric guitars, they evolved in increments from the classic acoustic, or "Spanish" guitar. Those developments are attributed mainly to two men: Leo Fender and Les Paul. They were friends, competitors, and rivals of guitar craft in Southern California in the 1940s and '50s. Ian Port wrote the book The Birth of Loud about how the rock guitar came about.
Port's passion for his subject grew from his love of music and, in particular, guitars. "I've been a guitar player pretty much my whole life," Port told me when we spoke over the phone recently. "I think I got my first electric guitar, a Peavey Predator, when I was 10 years old. It was a beginner model, a Strat copy, but a really nice guitar. I still pick it up and play it sometimes."

"Strat," as in "Stratocaster," a model introduced by the Fender Electric Instrument Company in 1954. "Strat," as in the guitar Buddy Holly purchased in Lubbock, Texas, in the spring of 1955, and subsequently took with him when he conquered the UK in 1958. On that tour, Holly's trio, the Crickets, were booked on a television variety show called "Val Parnell's Sunday Night at the London Palladium," which Port describes in The Birth of Loud as "the British equivalent of Ed Sullivan, but with even worse sound." Watching the live telecast on the evening of March 2 were a couple of teenagers from Liverpool named John Lennon and Paul McCartney, who, Port writes, were "mesmerized by the curves of Buddy's guitar." The two were also impressed enough by Holly's music and style that they changed the name of their incubating band from the Quarrymen to the Beetles, before changing it once more—Lennon, a pathological punster, thought the word "beat" was a better allusion to the music of the day than the name of a bug.

The Strat, therefore, was a guitar that the Peavey Electronics Corporation of Meridian, Mississippi, would have wanted to copy. But Leo Fender's first guitar, the Esquire? Not so much. As Port describes it, when the Esquire was introduced in the summer of 1950 at the National Association of Music Merchants convention in Chicago, the instrument was derided by competitors as a "toilet seat with strings." In fact, the Esquire did have a lot in common with crap…
Leo Fender and Les Paul were only the most famous of the luthiers who developed rock 'n' roll guitars. Paul Bigsby, Adolph Rickenbacker, Ted McCarty, and George Fullerton all had a hand in making the instrument that changed music forever. Read the history of the rock 'n' roll guitar at Collectors Weekly.
Source: neatorama