Audio specialists Rinaro Isodynamics is renown within certain audiophile circles for driving some of the most lauded and desirable audiophile tier headphones, most notably the luxuriously appointed and top performing Meze Empyerean. Those particular headphone's sizable price tag should make it evident Rinaro helps engineer gear categorized toward a discerning listener drawn to gear far from the realm of playthings. The same could not be said about Rinaro's surprising collaboration with collectible toy brand, Medicom Toys, of its intentionally playful design: the BE@RBRICK Audio 400% wireless Bluetooth speaker.
Founded in 1996, Medicom Toys appeared on the cultural radar around the aughts after launching a 7 cm tall bear-shaped block type figure. BE@RBRICK was conceived as the "digital image of the teddy bear" (thus the "@") and to celebrate the 100th anniversary year of its toy great grandfather, the teddy bear. BE@RBRICK would go on to define an entire scene of art toy collectibles, coveted by rabid collectors drawn to Medicom's numerous limited run collaborations and vast iterative interpretations of the blank bear canvas.
Rinaro Isodynamics on the other hand has earned their reputation focused upon the development of something a bit more obscure: planar magnetic technology. This category of audio driver differentiates itself from drivers typically found within speakers, and more prominently premium headphones, using an electromagnetic signal deliver via a wire running across a thin flat diaphragm paired with a suspended magnet. The wires manipulate the diaphragm and magnet by turning it on and off the signal, and in turn create a sound some discerning ears describe as distortion-free.
We reached out to Rinaro Isodynamics founder Pavlo Shymanovych to inquire whether similar audiophile technology powers this latest BE@RBRICK offering, and he clarified while this piece does not utilize planar magnetic tech, the dynamic drivers Rinaro designed for Medicom are bespoke to this particular design.
"They were designed with a specific weight, a flexible cone, special magnetic system, and specific resonant frequency optimized for this acoustic volume," explained Shymanovych via text messaging. "Traditionally speakers are designed in opposite fashion, with an acoustic volume built around existing drivers. But since we have to follow the original BE@RBRICK 400% shape, we had to develop everything custom."
The bespoke design includes a special driver setup Rinaro calls QUAD'360, an omnidirectional solution engineered to produce a uniform 360° audio field around the speaker. "This is a super complex task, and we are now in process of patent application for this invention, notes Shymanovych."We started [development] in 2019 and it took us almost 4 years – more than 20,000 engineering hours – to finalize it, a project far more complex than we expected when we began." One BE@RBRICK AUDIO 400% should sound very good, two in stereo mode, even better.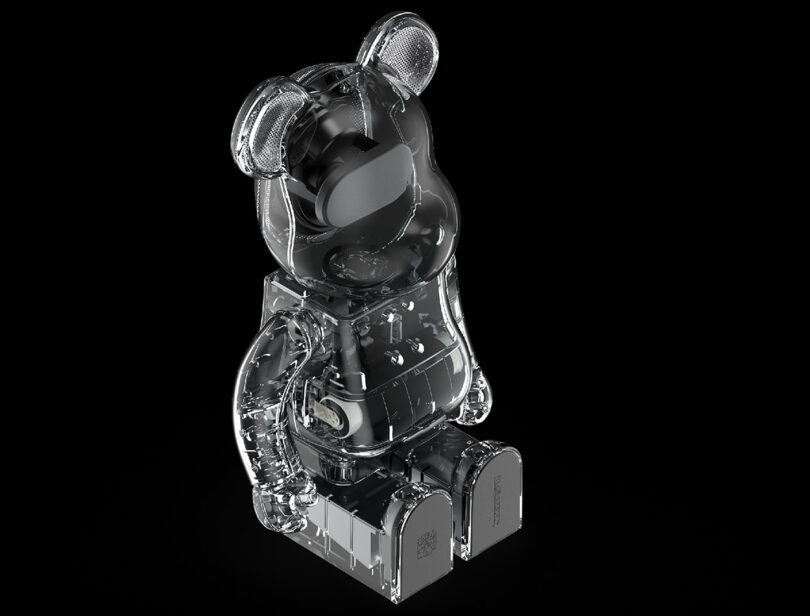 All this effort could be credited to the fact Shymanowych identifies as an enthusiastic BE@RBRICK collector himself. "I was excited to take BE@RBRICK into the world of audio," says Shymanowych. "The development of the speaker has been an extremely interesting, yet highly complex task. But we've created a product that our entire team is proud of."
You can join the waitlist for the limited BE@RBRICK AUDIO 400% Portable Bluetooth Speaker here.
Source: design-milk