We cover just about everything you can imagine when it comes to home furnishings, from desks to outdoor loungers to designer doors that upgrade your IKEA pieces to cat furniture. Yep, cat furniture – so basically a little bit of everything. Take a moment and dive back into these 10 posts to see what were the most popular posts in the home furnishings category in 2017.
10. A Storage-Packed Desk So You Can Keep Your Workspace Tidy
Designed by Gonçalo Campos for Wewood, Metis is a solid wood desk that's outfitted with lots of compartments and sections you can use to stow your gear.
9. The Delirium Collection Brings Playful Patterns to Your IKEA Sideboard
Superfront can elevate a basic IKEA sideboard with new fronts by Swedish artist Klas Ernflo, who created the non-repetitive Delirium Collection.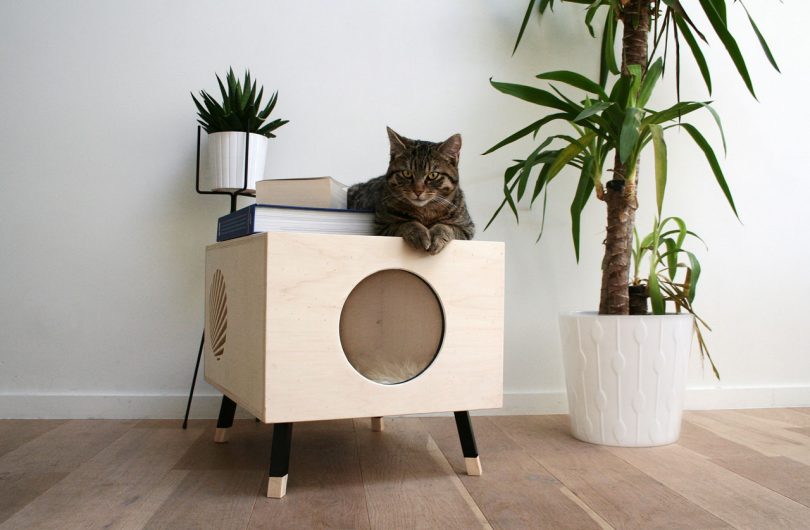 8. A Modern Cat House They'll Love and You Won't Mind Having Around
Krab launched minimalist cat houses that your cats can escape to to feel safe, while also blending in with your modern decor.
7. Objects Inspired by Japanese Tradition for the Modern Nomad
Gerardo Osio created a series of transportable objects inspired by Japanese culture designed to be taken from place to place so you always feel at home.
6. The Latest Minimalist Collection From Artifox
We looked at Artifox's latest pieces, a desk and shelf, which fell right in line with the brand's minimalist designs, and both featured cool mix and match accessories for added functionality.
5. Muista: A New, More Evolved Way to Sit at Your Desk
Muista is a work chair that looks more like a stool, but it allows your body to stay more active by allowing for different sitting positions.
4. This Is Fur Real: Say Hello To Singapore's First-Ever Cat Furniture Design Show
Appropriately named 9 Lives, this cat-themed furniture design exhibition was full of practical and aesthetically pleasing furniture for indoor cats.
3. Panama Banana: A Quirky, Rocking, Outdoor Hammock
Lithuanian designer Agota Rimsaite's Panama Banana makes for a quirky, yet fun outdoor, rocking hammock that can also be used as a soccer goal.
2. IKEA Releases the YPPERLIG Collection from HAY
Danish design brand HAY brought their aesthetic to the YPPERLIG collection for IKEA, including seating, coffee tables, lighting, textiles, and accessories.
And the most popular home furnishings post of 2017 is…
1. Le Refuge: The Most Instagrammed Thing at Milan Design Week
The most Instagrammed piece during 2017 Milan Design Week? Le Refuge, a pink, jungle-like daybed designed by Marc Ange at the Wallpaper* Handmade exhibition space.

Source: design-milk