Here we are at the end of a very strange year for everyone and the conclusion of our 2020 Year in Review coverage. While we've already shared the best of each category and a breakdown of each column, we felt like we needed to bring out the posts that really stood out and were the most read from the entire year. Without further ado, read below to see the best of the best with the top 10 most popular posts of 2020.
10. A Modern Home in Austin with a Pool That Bisects the House
Looking for quiet, a client enlisted Ravel Architecture to design a private home on a remote street in Austin, Texas. Named the M1700 House, the project involved finding a place to fit a full-size lap pool on a challenging site with a 25-foot elevation change. To solve the issue, the architects placed the pool so that it bisected the house thereby separating the private areas from the public.
9. Former Apple Engineer Designs Futuristic Kinetic Motion Cannabis Water Pipe
With 11 years experience as an Apple senior technical specialist, Tracey Huston's background primarily revolved around solving a multitude of challenges within the realm of the modern and digital, a background not typically associated with reengineering the age-old pastime of smoking. Yet, Huston applied a similar dogged attention to detail to develop Stündenglass, a curious and captivating device delivering smooth and vaporous draws with an hourglass flip.
8. Elevate a Basic Bathroom with 20 Modern Accessory Options
While not everyone can do a major renovation, incorporating some new modern accessories into any space can transform it into a room you won't mind spending time in. We decided to use my bathroom as inspiration and went on an internet dive to find some cool things, like artwork, shelving, toiletries, planters, objects and linens, that will elevate any basic bathroom to a much happier place.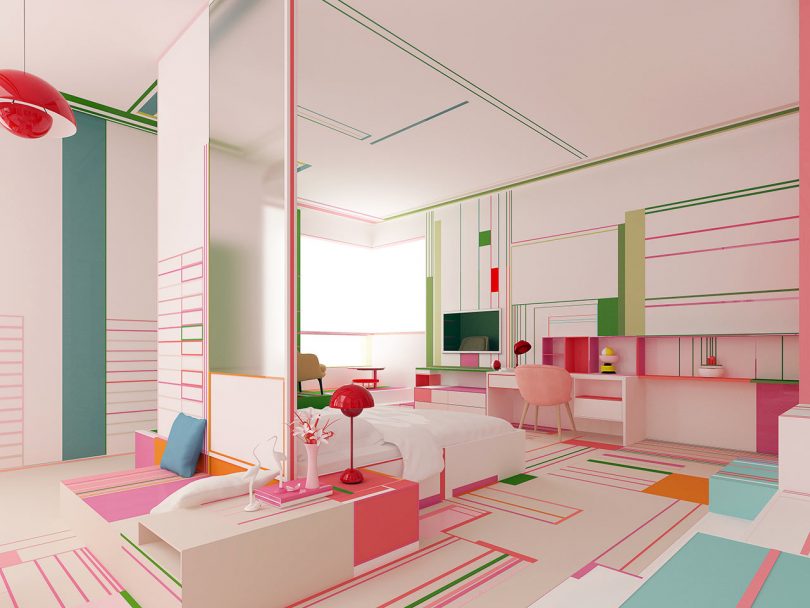 7. 10 Minimalist Modern Zoom Backdrops for Virtual Meetings
With all of us stuck on Zoom calls day and night, it feels like some level of professional decorum has gone out the window and now the bounds have been stretched to permit some level of creative license. To get your started, we scoured the Design Milk archives to find some modern interiors that could inject some aesthetic variety without introducing unnecessary distractions. If you're looking for a modern Zoom background, we share ten of our favorites (and three not-so-minimalist options for after hours).
6. Camira + SEAQUAL Turn Ocean Plastic into Upholstery Fabric
Yorkshire-based British textiles manufacturer, Camira, teamed up with the SEAQUAL Initiative – which turns waste plastic captured from the sea by fishermen into yarn – to make the industry's first upholstery fabric to contain ocean plastic. We caught up with Camira's group design manager Ciara Crossan to find out more.
5. Desktop Wallpaper: January 2020
To start 2020 on the right foot with our Designer Desktop column, especially after the holiday craze, we brought some zen into your life with this tranquil Escape wallpaper designed by Calico Wallpaper in collaboration with artist and sculptor Fernando Mastrangelo. Available in six color ways, the collection features an illustration of the glacial movements that shape landscapes. Paired with a fitting quote by Georgia O'Keefe, these wallpapers are truly lovely to see when you open up your laptop or pick up your phone.
4. The Cat Flat Gives Cats a Home with 10 Things to Make Them Happy
In addition to the basic needs of food, water, and a place to go to the bathroom, Sweden's first cat psychologist Susanne Hellman Holmström has outlined 10 other necessities that cats need in order to be happy: scratching, cleaning its fur, hiding, looking after its territory, playing, sleeping, hunting, spying, discovering and social connection. That list can be difficult to achieve for some indoor cats as many people are living in smaller spaces. In order to combat that problem, Hellman Holmström collaborated with interior designer Eleonor Moschevitz to create The Cat Flat — a modern cat house — for 24Storage.
3. The Moon Coffee Maker Drips With Caffeine and Cuteness
Our coffee-obsessed team is perpetually investigating new roasts and preparation methods inspired by a love of the roasted bean. Which partially explains our fascination with the Moon Coffee Maker by Israeli designer Roee Ben Yehuda, an espresso maker reimagined with a friendlier steampunk-meets-kawaii aesthetic, resulting in an appliance intended to present a less intimidating front face than the complexities of a traditional espresso machine.
2. The Design of the SpaceX Spacesuit Explained
On Saturday, May 30 at 3:22pm, for a glorious moment we were given a glimpse of the future of space travel. The successful launch of SpaceX's Falcon 9 reorbital rocket system carrying the Crew Dragon to the International Space Station was historic in successfully sending NASA astronauts Bob Behnken and Doug Hurley within a privately developed spacecraft. The mission also revealed the next generation of astronautical wear, the SpaceX spacesuit.
1. The Coolest Modern RVs, Trailers and Campers
Whether you're an occasional camper looking for something small to pull to your next campsite or you want a top-of-the-line, no-expense-spared Xpedition vehicle, we got you covered. We scoped out some of our favorite recreational vehicles that do away with the typical aesthetics they are general known for and focused on the modern variety that have been popping up more and more as people look to get away. Click the link above to see seven of our favorite modern RVs, XVs, campers, and caravans.

Source: design-milk