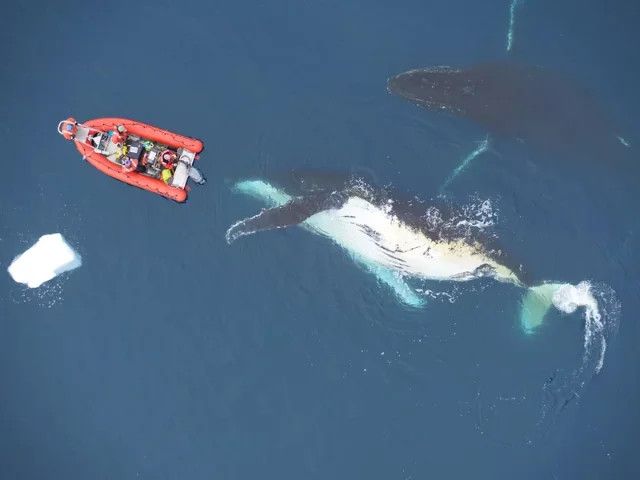 🐳 How much does a blue whale eat every day? If you guessed "a lot," you'd be right: a new study revealed that a blue whale eats between 10 to 20 tons of food a day, or about 20 to 50 million calories. To put that into perspective, that's the equivalent of about 80,000 Big Macs. Every. Single. Day. (Image above: Duke University Marine Robotics and Remote Sensing Lab)
🚂 Instead of turning it into scrap metal, a retired train in Tokyo's Miyazakidai Station is reimagined as a shared office space that you can rent. And while the interior is not exactly the same, the train has all the vibes of the train featured in Studio Ghibli's Spirited Away.
🎬 Talking 'bout Studio Ghibli, this guy created a fantastic replica of Howl's Moving Castle using trash and junk items.
🎃 Understanding semiotics using pumpkin spice as an example. At the end, I still don't understand semiotics, but now I'm thirsty for pumpkin spice latte.
📷 Winning photos of the Close-up Photographer of the Year 2021 include this super cute Rat in Tyre Hub shown above. (Image: Ezra Boulton/CUPOTY03)
❤️ Paul Rudd is named Sexiest Man Alive, and his wife basically said, "sure, dear." Rudd said, "I'm going to lean into it hard. I'm going to own this. I'm getting business cards made."
Let's end with two fun and uplifting stories:
🐶 Good boi: Dog saved more than 100 koalas during brushfires in Australia
😻 You may love your Amazon delivery packages, but this cat loves the delivery drivers.
More neat stories over at our new sites: Pictojam, Homes & Hues, Laughosaurus, Pop Culturista and Supa Fluffy. Thank you for checking them out!
Source: neatorama