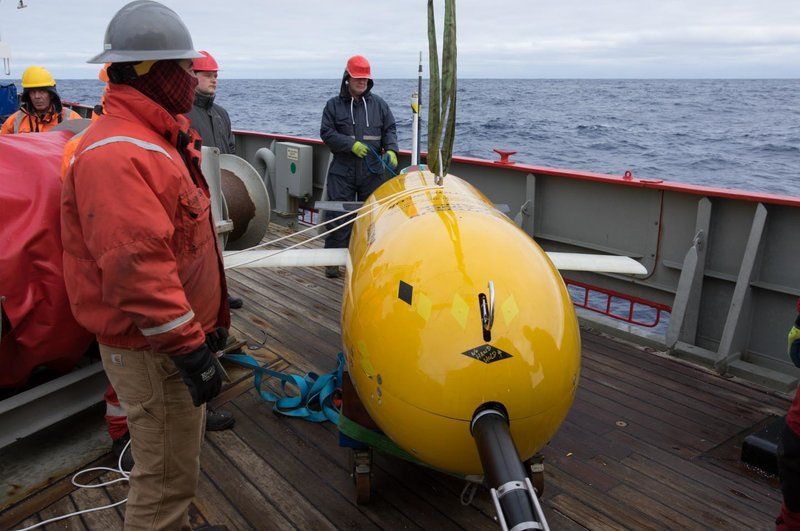 Remember Boaty McBoatface? The autonomous submarine vehicle had a successful maiden voyage to see how stronger winds on the ocean surface were impacting the environment far below the waves — and whether that deep ocean activity was contributing to rising sea levels.
"It was the first mission and brought back an incredible wealth of data," oceanographer Eleanor Frajka-Williams of the U.K.'s National Oceanography Centre tells NPR.
In April 2017, Frajka-Williams and other researchers deployed the submarine to take measurements deep in the Southern Ocean near Antarctica. Their findings were published this week in Proceedings of the National Academy of Sciences
The stronger Antarctic winds contribute to stronger currents, Frajka-Williams says. This, in turn, leads to more churn, or turbulence, deep under the sea.
Boaty was able to pinpoint a previously unknown way in which this mixing is causing water to warm up across large areas, she said. Usually, deeper, colder water mixes with shallower, warmer water — think of vast amounts of water moving up and down.
But the measurements taken by the little submarine show that cold water is also mixing with warm water at similar depths — more of a horizontal sort of flow.
Read more about the little submarine that could and its maiden voyage at NPR.
Image Credit: Povl Abrahamsen, British Antarctic Survey
Source: neatorama