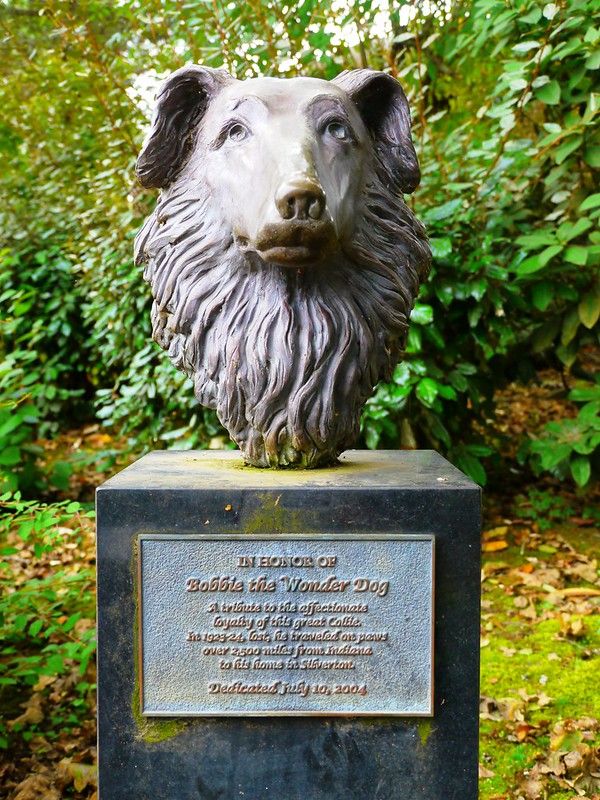 The Braizer family of Silverton, Oregon, had a collie named Bobbie. In August of 1923, the family took a road trip to Wolcott, Indiana, to visit relatives, and naturally took their beloved pet with them. But a pack of dogs chased Bobbie off at a gas station stop in Wolcott. The heartbroken family searched for a week, and placed ads in the local paper. They eventually returned home without Bobbie, thinking they would never see him again.
To everyone's surprise, Bobbie did return, six months after he had disappeared. He hobbled back into Silverton one February day in 1924, ragged, dirty and scrawny with his toenails worn down to nothing. Unbelievable as it may seem, the two-year old puppy had walked 2,550 miles all by himself to get home.

The news of Bobbie's incredible feat soon spread across the nation, and the Braizer family was flooded with fan mail, some addressed to Bobbie himself. Some people claimed they had seen Bobbie at various places and were able to identify him by his distinguishing features.
The publicity surrounding the dog's feat led to a recreation of his journey, since he had interacted with quite a few people along the way, including a stay with a Portland woman after being injured. Read about Bobbie's incredible journey and his legacy that's still celebrated almost 100 years later, at Amusing Planet. -via Strange Company 
(Image credit: Flickr user Rick Obst)
Source: neatorama