Musicians prides themselves in expressing who they are throughout their music. The Breeze guitar amplifier offers the additional opportunity to allow their gear to reflect more of their personal taste, combining the features of an amplifier and guitar stand into an all-in-one design. A collaborative effort between Korean JOOM and Houston-based Weekend-works (Jaekyu Jung, Estab Han, Hyunsoo Choi), the cross-continental team recognized in lieu of social interaction during the pandemic certain activities/hobbies enjoyed at home had become increasingly popular, including playing instruments. Inspired, that took aim toward a category that is "quite conservative in design" and set out to redesign the guitar amplifier.
Breeze is a guitar amplifier for one, a concept drawn up to "be enjoyed alone inside the house, not for guitar amplifiers for ensemble" (how very K-drama!). The design is somewhat evocative of the Beosound Edge Speaker, but with the addition of a marble base and a stand intended to hold a guitar upright.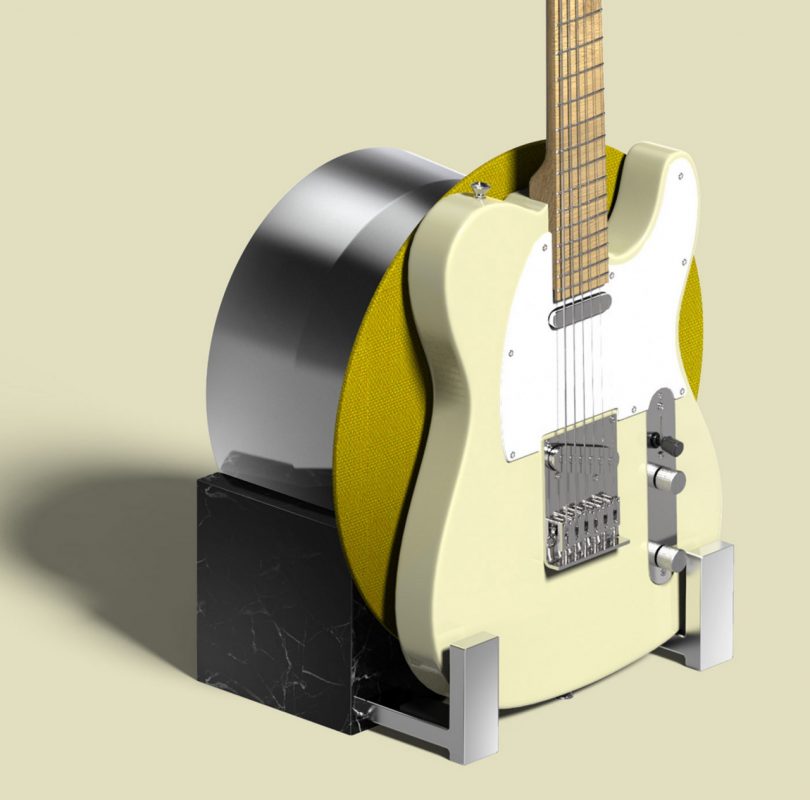 Like many wireless audio speakers today, the Breeze is imagined with customization options, with various colored fabric covers to match the mood and style of its owner.
Those looking for the opportunity to rock out accompanied by a cool Breeze will be disappointed to note this currently only exists as a concept, one spotlighted over at the Behance Student Show showcase. Here's to hoping a Marshall, Fender or other large guitar amplifier manufacturer recognizes there's a market for guitar amps today that don't look like A/V equipment from the 1950s.

Source: design-milk