To get a taste of Arizonian nature, all one needs to do is study Frank Gonzales's thoughtfully painted artworks. Many of his subjects—namely birds and desert plants—are ones that he sees in his own backyard. With each feather carefully detailed and contrasting against vibrant solid backgrounds, the fowls look equipped to fly right off the canvas.
There is irony that the artist, who is known among the local community for his "desert-inspired perspective," didn't truly realize how much he loved Arizona until he moved away.
Gonzales first left his hometown of Mesa, AZ to study at the Laguna College of Art and Design, and upon graduation joined the illustrious art scenes of Los Angeles and New York. While he thrived in the big cities for twelve years, notes of Arizona regularly permeated his work.
"Growing up, there was a lot that I took for granted, visually," muses Gonzales. "Cacti, sunsets, the smell of Arizona rain… I missed it so much that my mom got me a subscription to Phoenix Home & Garden."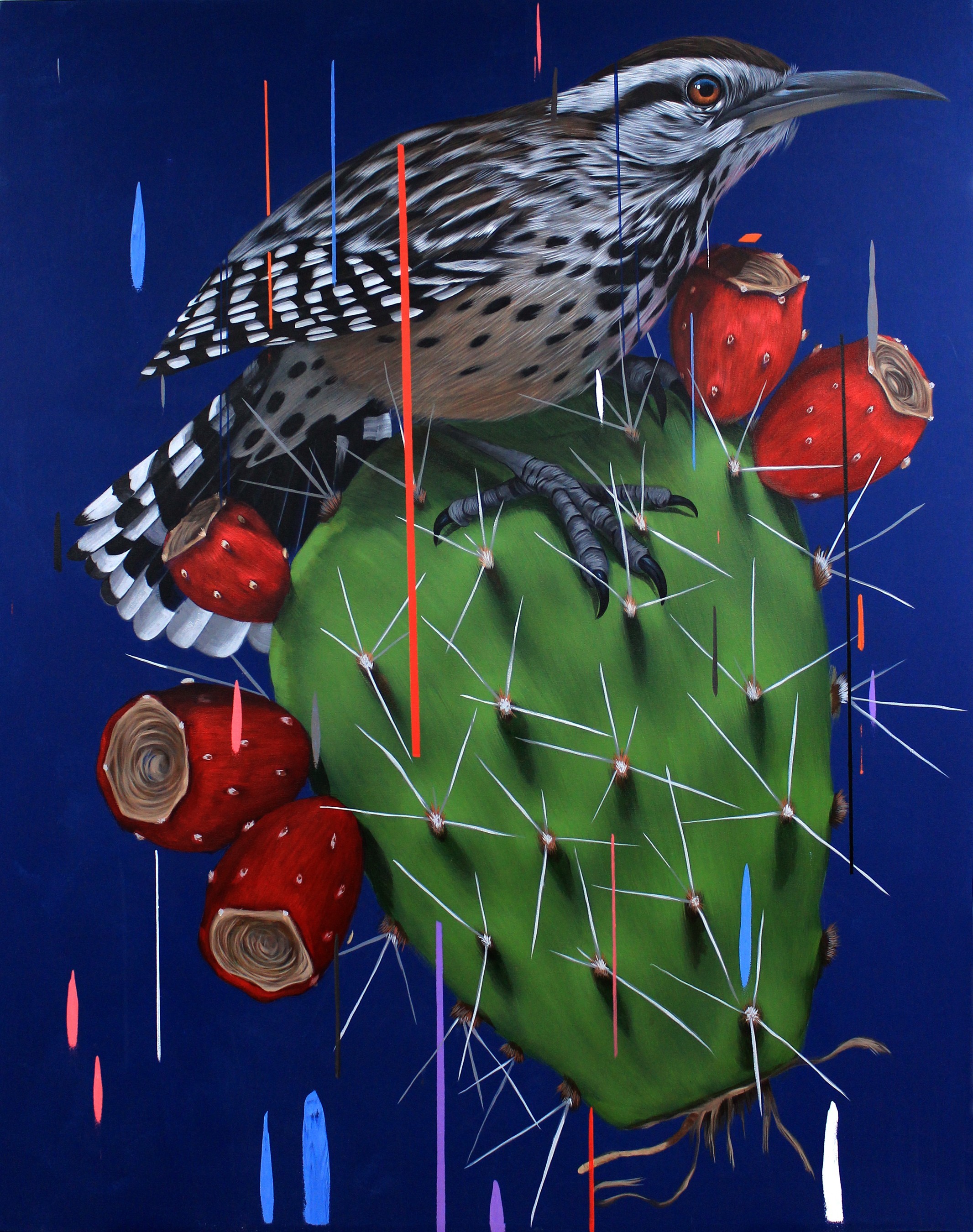 Gonzales received classical training in school, primarily drawing and figure painting. "I was headstrong with the whole classical mentality," he tells Creators. It wasn't until a friendly art competition with a college roommate that he tried his hand at painting birds, which later led to him also implementing various flora and minerals into his art.
"I'd always loved plants and dead things, but I never thought about adding that to my work until I left art school and realized I needed to give myself my own assignments."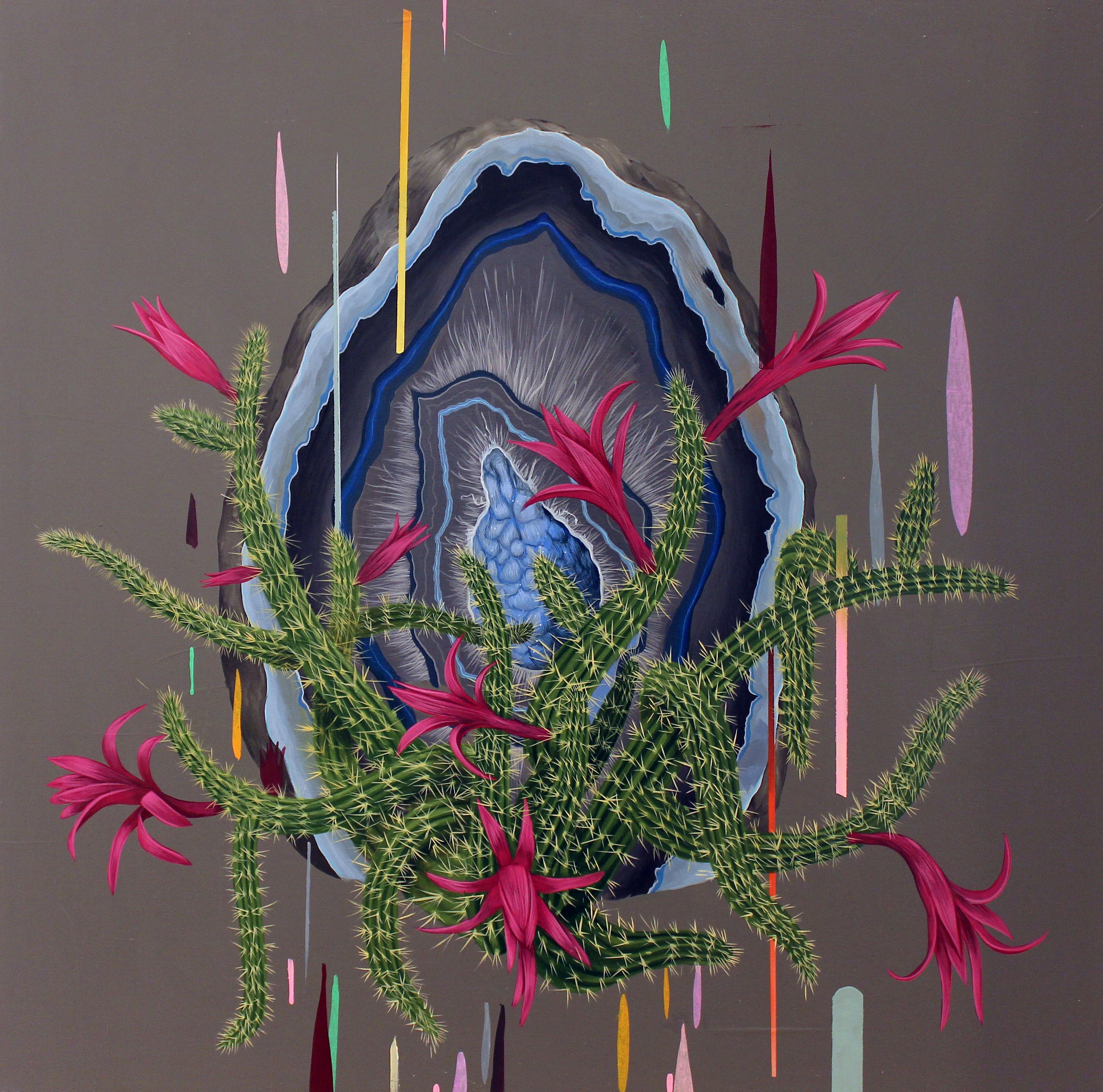 As his work continued to grow, Gonzales found himself becoming more and more influenced by the desert. He would flip through his gardening magazines and various Southwest photography books for inspiration. Missing the beauty of his home and ready to start a new chapter, Gonzales made the move back to Arizona in 2011. Now he simply goes outside to get inspired.
"I had to be reintroduced to my hometown, at first. I would walk around and just observe what was around me. Now, I go into botanical gardens and go hiking in the mountains. Most of what I draw are things that I've directly observed."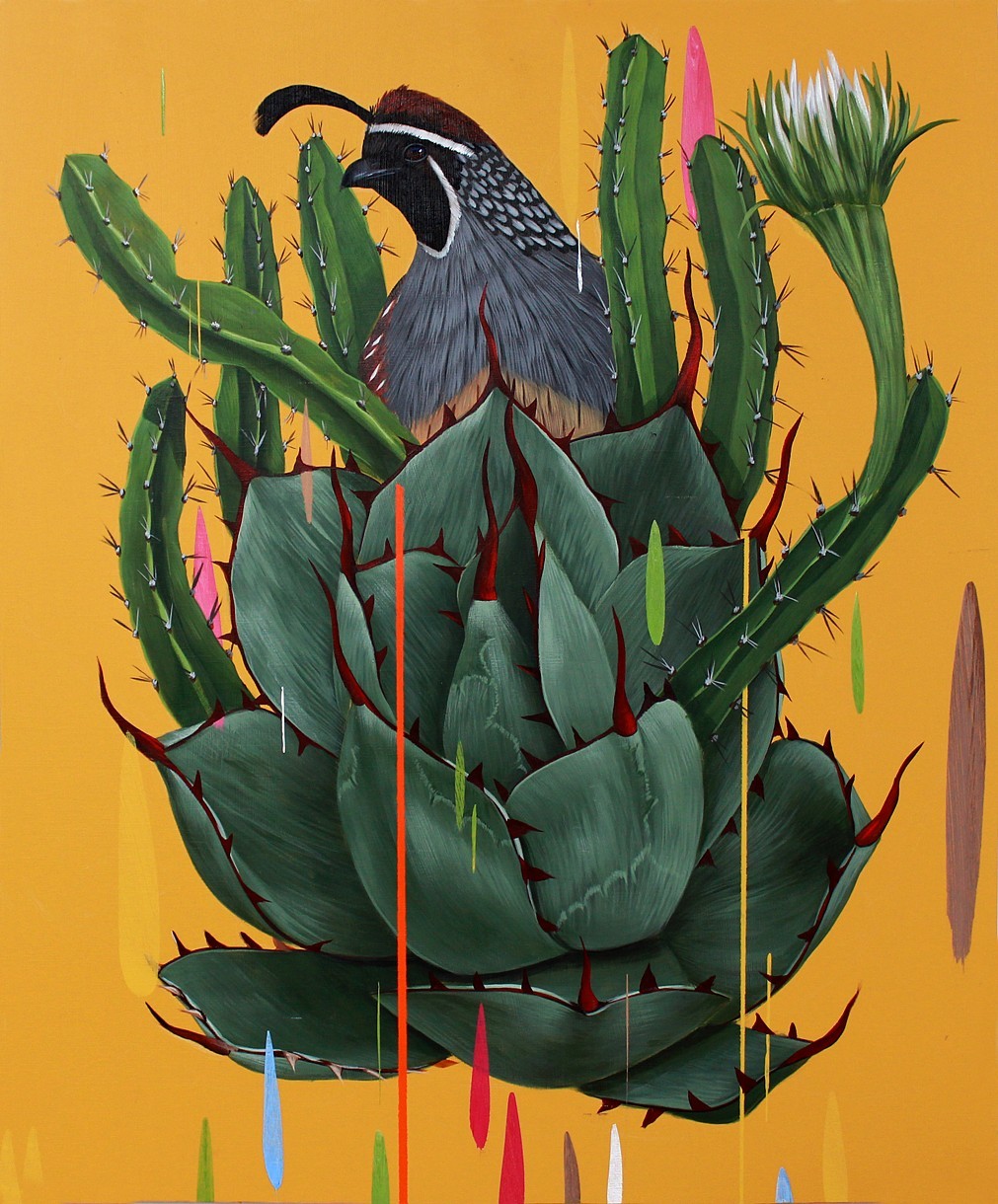 By day, Gonzales serves as the preparator at the Mesa Contemporary Arts Museum, where, according to curator, Patty Haberman, he "brings his artistry and unique perspective into the design and installation of our exhibitions."
Gonzales made his curatorial debut at the museum last year, sourcing inspiration not from the outdoors, but from a different aspect of Arizona's culture: the Mexican-American population.
"Chicano State of Mind" was an exhibition featuring works from local Chicano and Chicano-inspired artists, such as Teresa Villegas' painting No Busque Los Valores Absolutos Relativo en el Mundo de la Naturaleza [Do Not Search for Absolute Values in the Natural World] and graffiti artist Such Styles' Teen Angel.
In today's political climate, it was important for Gonzales, who identifies as Chicano, to ask the questions "What is Chicano art?" and "What does it mean to be Chicano?"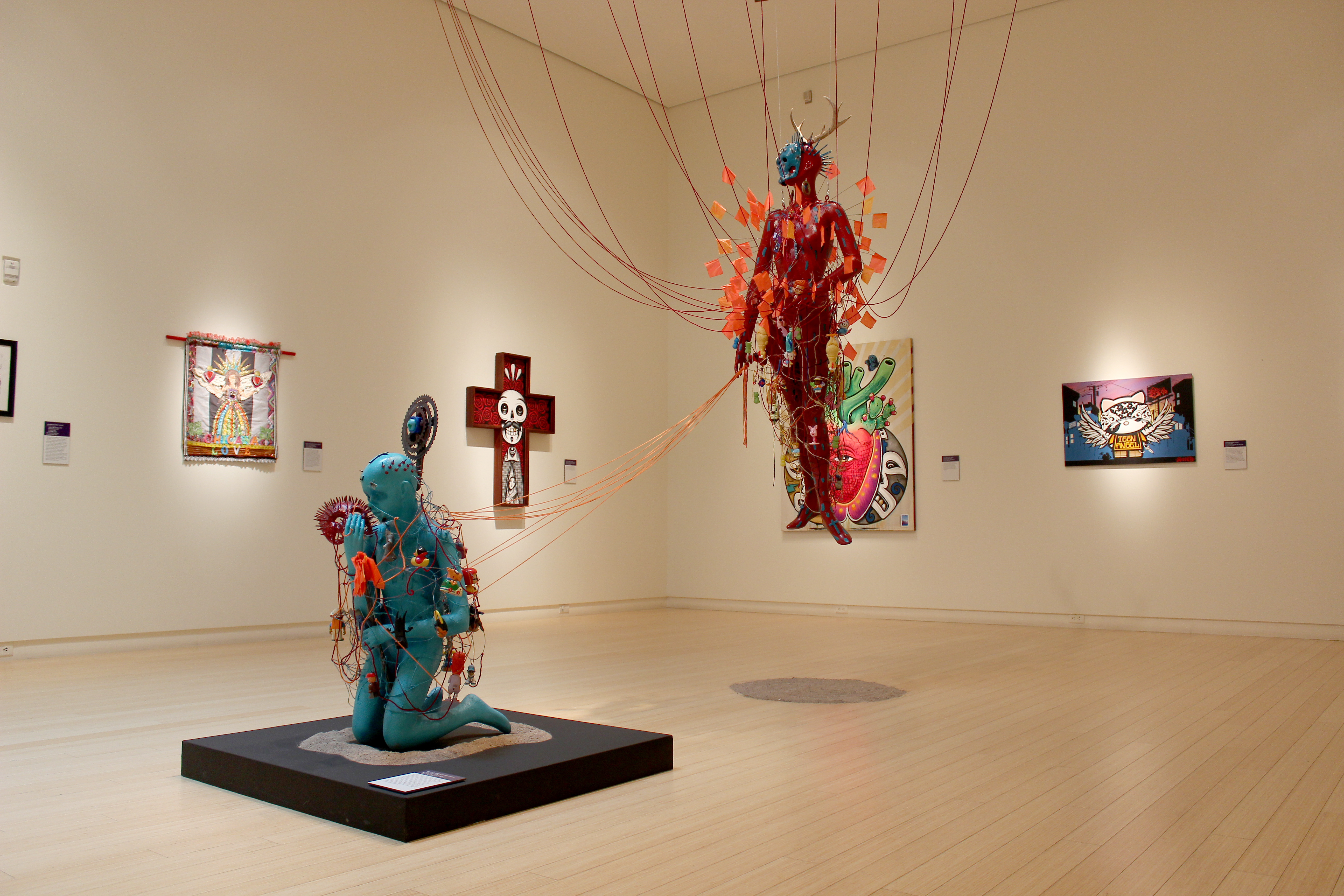 "Chicano culture is deeply woven into the fabric of the Southwest and crosses boundaries beyond those of Mexican heritage," Gonzales wrote in the show description. "This exhibition explores the idea that being Chicano is a state of mind that goes beyond a restrictive classification."
In the past year, Gonzales has been commissioned to paint several locally-inspired murals around the state. They've been some of his favorite pieces of work to date, because he "was really able to put elements of Arizona into a painting that [he'd] always wanted to do."
"I just love the desert," he says. "I love where I'm from."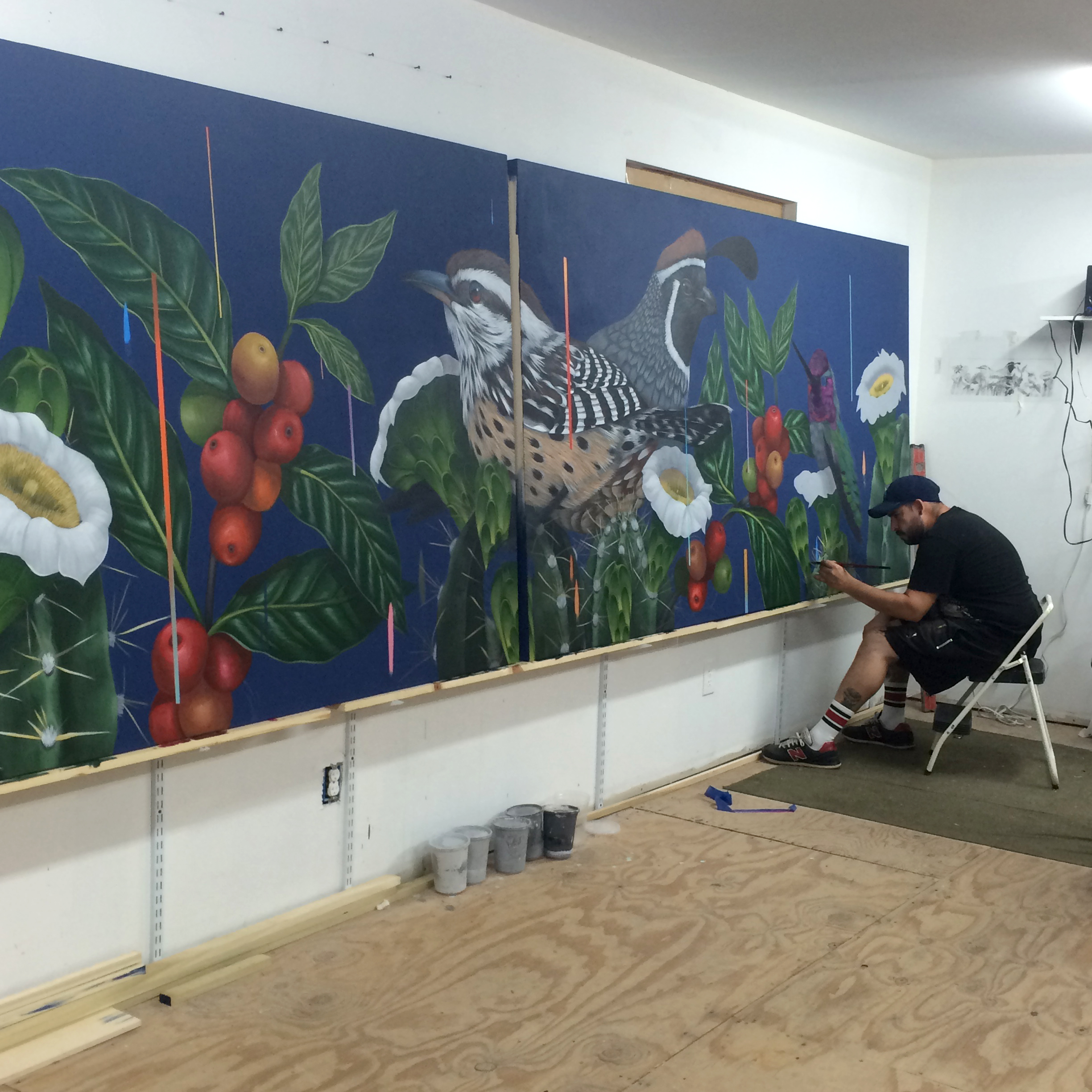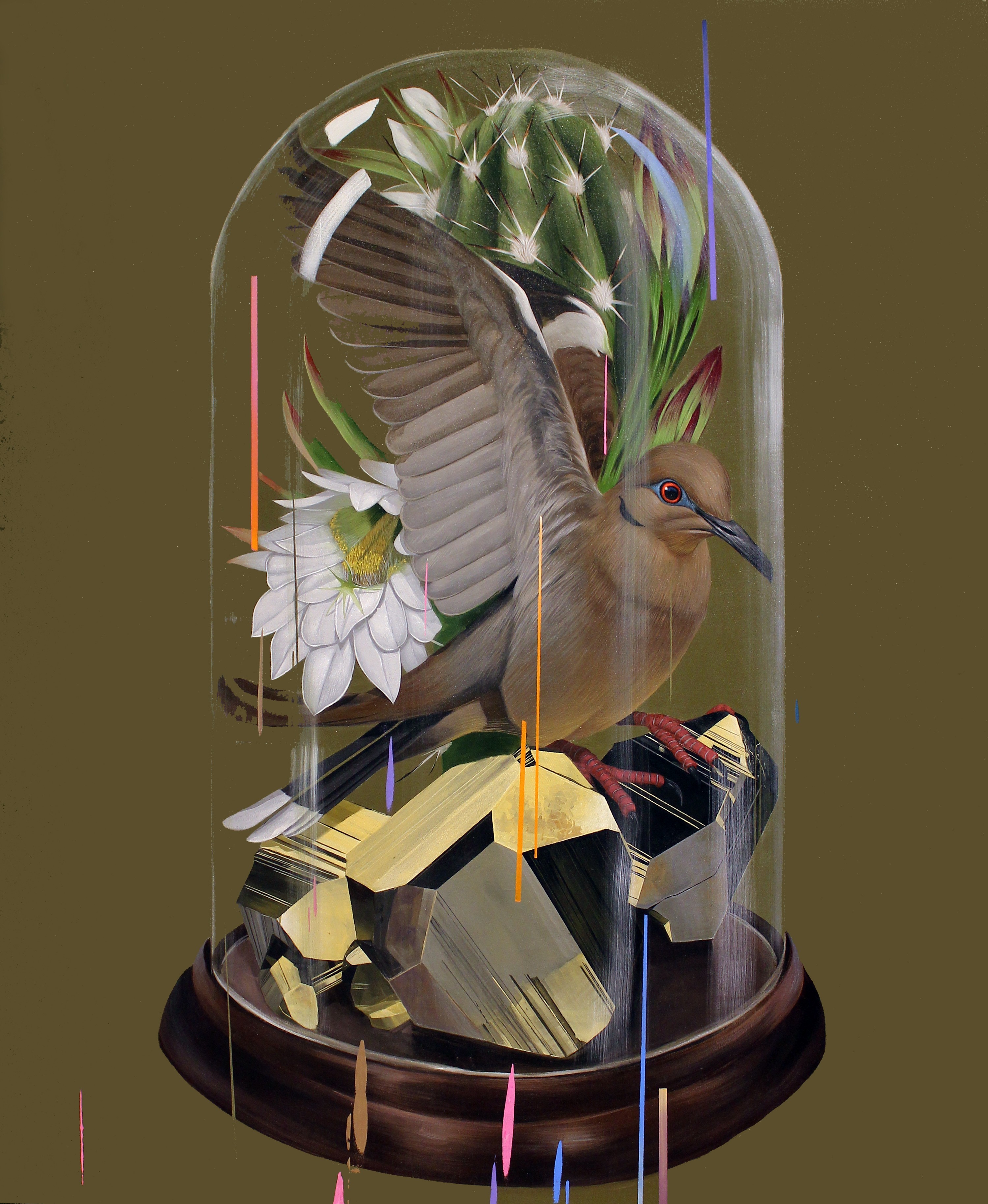 In the coming months, Gonzales will be part of several group shows with Thinkspace Gallery, including Juxtapozed at the Fort Wayne Museum of Art and Flourish at the Mesa Contemporary Arts Museum.
To see more of Frank Gonzales's work, visit his website and Instagram.

All year, we're highlighting 50 States of Art projects around the United States. This month, we're covering Arizona, Mississippi, Nebraska, Maine, and Virginia. To learn more, click here.
Related:
This Artist Gave Colorful Parrots Elegant Legs, Because Why Not?

A Curator Gives Us the Lowdown on Art in the South | #50StatesofArt

Succulents Make a Stunning Statement Inside Vintage Typewriters
Source: vice.com