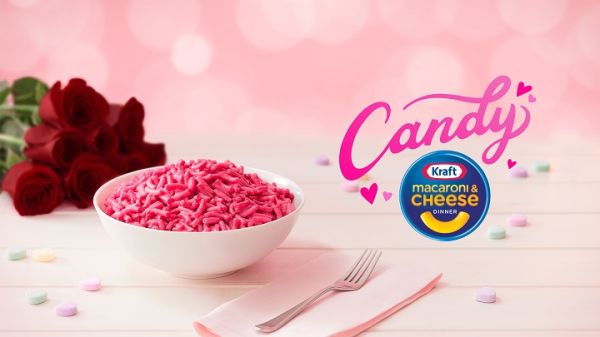 Hold your stomach, Kraft macaroni and cheese has a Valentines Day promotion that will turn your dinner into something completely different. Forget steak or homemade spaghetti, or even takeout food, because what your sweetheart really wants is a serving of hot pink macaroni and cheese with sweetener. The limited edition Candy Kraft Macaroni & Cheese is a regular box of mac and cheese that comes with a flavor packet you can add to turn it pink and impart candy flavoring.
So, what makes the powder pink? Is it crushed-up conversation hearts? Is it a special dust from Cupid's arrow? Actually, according to a Kraft-Heinz spokesperson, the vibrant pink hue comes from beetroot and carrot concentrates. As for what makes it tastes like candy, the extra packet of powder contains fructose, natural flavors and vanilla extract, they said.
The company is only making 1,000 boxes, and you'll have to enter a sweepstakes to possibly get one. I'm wondering how many people will enter the contest to really try eating this, and how many just want the box for a future social media post.
Source: neatorama