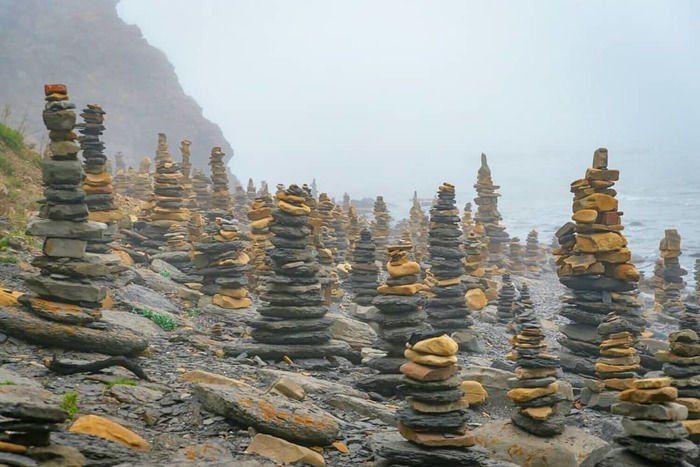 This is Cape Vyatlina, a place located in the Russian Far East. This place has been dubbed as the Russian Stonehenge because of its peculiar feature: man-made stone towers. Hundreds of stone towers line up at the beach and everyday, new stone towers are erected.
The tradition of building towers at Cape Vyatlina by stacking stones of various sizes on top of each other started in 2015, when a group of activists from Vladivostok built 155 such monuments in celebration of the city's 155th anniversary. Many of these original towers, some up to 3.5-meters-tall, were destroyed by the collapse of a nearby grotto, but other locals and tourists took it upon themselves to restore them and even add to their number. Today, there are several hundreds of these hand-stacked stone towers covering the beach at Cape Vyatlina and building them has become somewhat of a superstition.
It's said that building a stone tower at Cape Vyatlina can make your greatest wish come true, so it's no surprise that stacking stones has become a tradition among visitors to this remote place. For others, the practice is almost meditative in nature, as erecting these structures requires lots of patience and concentration. Whatever the motivation behind each builder's actions, there's no denying that the towers make quite a sight.
Would you build a stone tower in this place in order to make your greatest wish come true? I certainly will do when given the chance to go there. Sounds like fun.
(Image Credit: Kisenia Anatolievna/ Instagram)
Source: neatorama