Catherine Denvir's artistic practice integrates traditional and contemporary techniques, beginning with drawings on paper, and moving to digital manipulation to create the sketches that inform her final oil paintings. Catherine explores notions of nostalgia and childhood adventure, imbuing her work with a sense of fantastical timelessness. Catherine received her MFA from the Chelsea School of Art, London, where she currently lives and works. She has shown widely in solo and group exhibitions across the UK and Italy!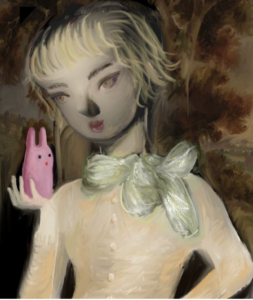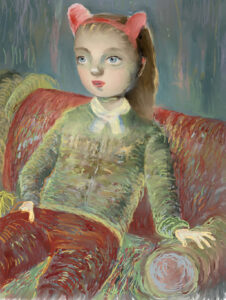 Hi Catherine, would you like to start us off by telling us when you first started creating art?
My mum was an artist too and as far back as I can remember that was all I ever wanted do, drawing before I walked, almost.
It runs in the family, what a great gene to pass on. Where do you usually draw inspiration from?
I can find inspiration from so many things, I am in Italy at the moment and the beautiful landscape fills me with ideas but I can be equally inspired by something like a certain light sun or even street lamp in the local industrial zone. I like watching people too and Italy is a great place for doing that.
What mediums do you prefer to work in?
I love swapping between mediums. I'll start with pencil or biro in a cheap exercise book before moving the original sketch to an app called Paper to fill it out. Then I work out ideas with Corel Painter and Procreate. Final works are done in good old oils on canvas.
It seems like you have some experience in digital painting – can you tell us a bit about how you approached this project?
I had actually recently before worked on an image that had a certain Van Gogh element as far as brushstrokes were concerned. I was wondering how I could marry my style with the Van Gogh portraits, it was reading about the close and touching relationship of Vincent and his brother, Theo, which drew me to the idea of them as boys and their childhood.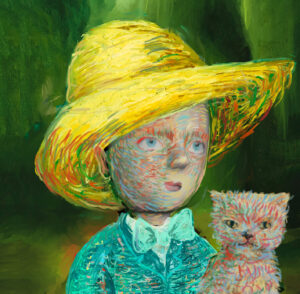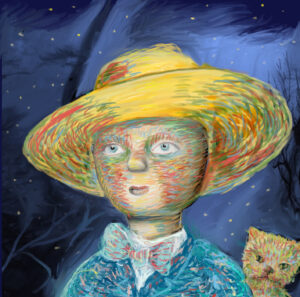 Van Gogh as an artist vs. the modern artist is part of the reason we chose the artist Vincent Van Gogh as the focus of this project was because of his struggle making a career in the art world during his lifetime. If Van Gogh were alive today, what do you think he would have thought about the concept of NFTs in general?
I think as he was one to experiment with paint and with a perception of image that was almost incomprehensible to his generation I think he would have been inquisitive to become involved. Also the aspect of struggling to make a career in the art world, NFTs would have been a big help.
Do you have any advice for those looking to create their own NFTs?
Stick to the way you work and don't feel that you have to do something that is obviously 'digital'.
In fact, when you photograph your work with your phone, it immediately renders it digital even if the original is a heavily textured acrylic abstract painting.
Love reading about all things art? You can have articles from Canvas, curated collections, and stories about emerging artists delivered straight to your inbox. Sign up for the Saatchi Art Newsletter.
Source: saatchiart.com