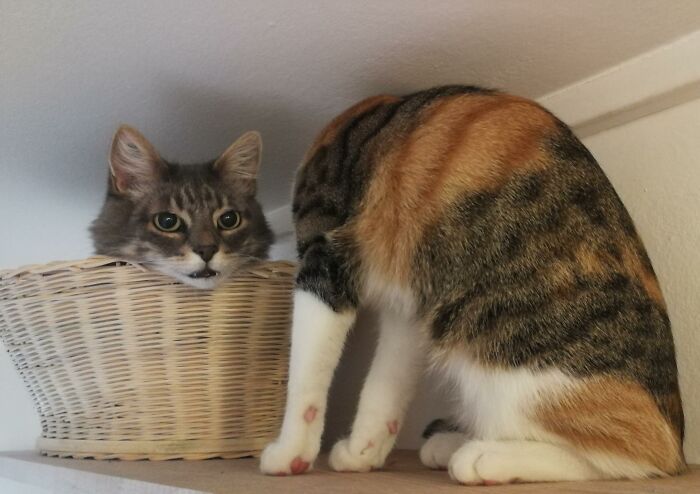 Well, whatever's in that part of the ceiling should be investigated. This is not normal.
Just kidding. This is a normal photo of two cats named Koda (the one with the seemingly severed head), and Lilly (the one with the seemingly headless body).
Just as magicians use two people to show an illusion of a body seemingly cut in half, the same technique was used in this photo. In this case, it just so happened that the Lilly's head cannot be seen from the angle at which the photo was taken, and the photographer, Reddit user i_spin_bubbles, took the photo at the right time.
The Reddit user said that he didn't realize that he'd captured an Illusion until he saw the photo: "I just took pictures of both of them playing. When I saw the captured picture, I saw the illusion. I didn't expect for the picture to become a meme and thus so widely known. I was just hoping for people on /r/aww to like it."
There were lots of memes created from this picture. The owner said that he really enjoys them: "I really liked the beheading history meme. Fun fact: The cats were born near the French border."
Along with Koda and Lilly, i_spin_bubbles also lives with another cat named Miez. Learn more about them over at Bored Panda.
Now this is cool.
(Image Credit: i_spin_bubbles/ Bored Panda)
Source: neatorama