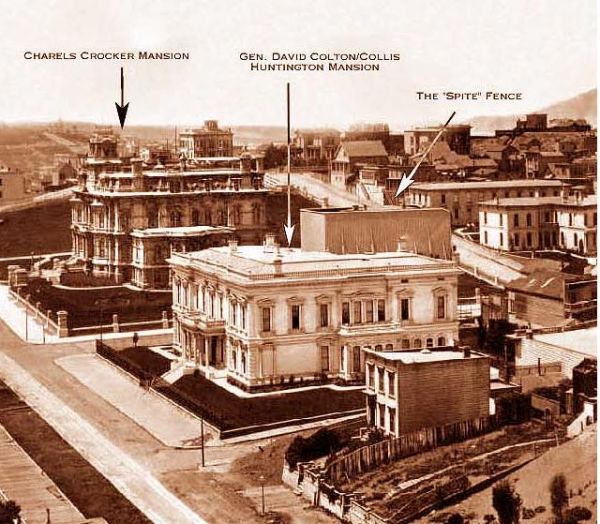 Railroad tycoon Charles Crocker bought a lot in San Francisco in 1878 and built a big mansion. He wanted to own the entire city block, and managed to buy up all the neighbor's lots except for one holdout: Nicholas Yung. Yung saw no reason to move, and refused to sell his corner property. Well, he finally engaged in negotiations, but asked for a price Crocker wasn't willing to pay -even though it was less than other property owners were getting.
Crocker ordered his workmen to construct a three-sided wood fence around Yung's house. The fence rose forty feet into the sky completely boxing up the German immigrant's house, depriving him of sunlight and sir. The Yungs felt as if they were living at the bottom of a well. The plants in their garden wilted, and they had to use candles even in daytime.

Yung threatened to build a giant coffin on his roof above the height of the fence, emblazoned on the side turned toward his aristocratic neighbors with a skull and cross-bones, to serve as an advertisement of his business but mostly to remind Crocker of his own mortality. The story of the feud was picked up by the media and the fence soon became one of the city's most popular attraction. People started taking the California Street cable car just to look at the fence that rose malevolently above Yung's modest home. The fence was so tall it had to braced with big timbers and cost Crocker $3,000.
The feud went on for a quarter century and outlasted both Crocker and Yung. Read what happened and the ultimate fate of the Crocker mansion at Amusing Planet.
(Image credit: Eadweard Muybridge)
Source: neatorama