If the cyclical nature of trends has prepared us for anything, it was for the resurgence of the checkered print or checkerboard pattern. The check effect has spilled over from the fashion world into nearly every facet of design – from tech accessories and area rugs, to throw blankets, bedding, and tabletop wares. Similar to my over-the-top obsession with gradients, I can't get enough checkerboard in my life. Whether you're a pattern person or not, there's a checked style to suit every design aesthetic. With countless variations in colors, sizes, and forms, there's no limit to the ways we can experiment with the fun and timeless trend at home. If you're not already drinking the checkerboard Kool-Aid, I took the liberty of picking out my favorite checked goods, so you give the pattern a try at home. For more modern finds, visit the Design Milk Shop!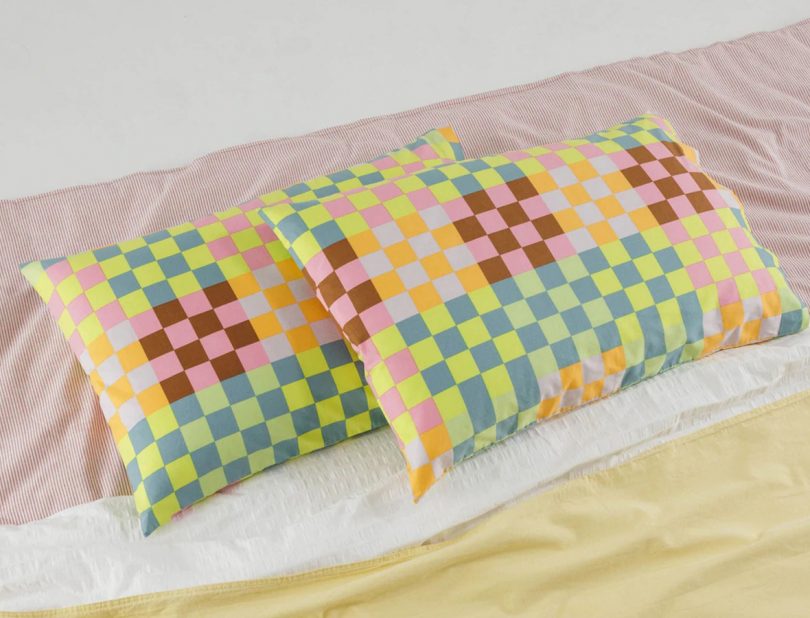 These BAGGU Pillowcases bring the checkerboard print and a bright, playful color palette to your bedding. The standard sized pillowcases are made of 100% organic cotton, giving you something soft (and stylish) to lay your head on at night. I would forego decorative shams and let these dreamy pillowcases have the spotlight! BAGGU also makes a "Trippy Checker" pillowcase that I love.
$34
Shop Now >>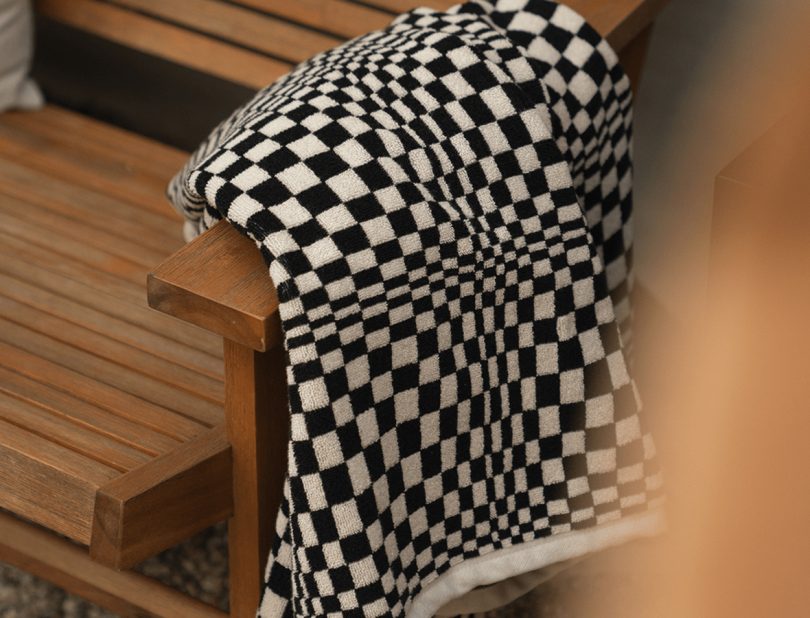 Makers of our favorite biodegradable body soap, Bathing Culture created a psychedelic checkered print towel that'll jazz up your bathroom. Inspired by the techniques of weaving artist Anni Albers and op-art by Bridget Riley, the Ripple Check Towel recreates the movement of water in a classic and captivating design. It even comes in 3 neutral colorways to complement your bathroom decor.
$75
Shop Now >>
New to the Design Milk Shop, this coaster set is a modern and understated way to bring the checkerboard trend home. Crafted out of a sustainable resin, these minimal checked coasters boast a marble-like feel that creates a visual and tactile contrast to the cork base (which keeps the coasters from scratching surfaces). Plus, every coaster is made by hand, giving each piece its own unique character that you'll want to hold onto forever.
$49
Shop Now >>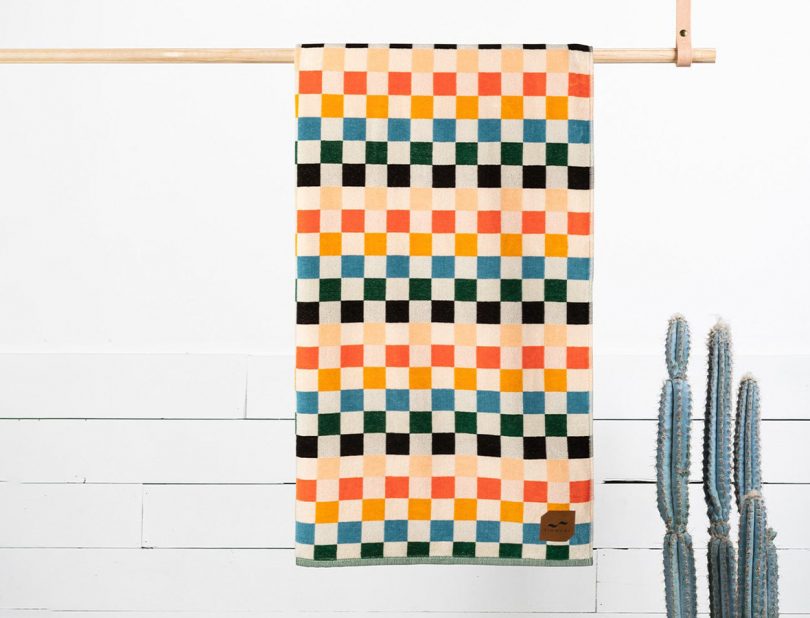 Perfect for summers spent laying out in the sunshine, the multicolored checkerboard pattern on this Slowtide beach towel injects even more joy into days spent outdoors. The oversized design makes it a convenient place to perch in any setting, while the jacquard weave and looped terry back fulfill its absorbent and fast-drying promises. My favorite part? The towel's made using reactive dyes that keep its energizing colors from fading over time.
$70
Shop Now >>
To deck out your tech in check, I love this phone case by Poketo x Casetify. The warped perspective of the lavender checkerboard print is equal parts psychedelic and modern and Casetify has plenty of other color options so you can customize to your liking (there's a case for every device model too!). And when it comes to protecting your device, you can't get more durable than a Casetify phone case. Find more Poketo goods to match your case in the Design Milk Shop.
$60+
Shop Now >>
These glow in the dark checkerboard earrings by Such a 4 are perfect for those who love their statement accessories. For me, these earrings represent the marriage of my two favorite design trends – curvy design and checkerboard, of course. The curved zig zag shape offers a whimsical look, that's taken to the next level with the addition of the checked design and glow in the dark glaze. These earrings are something I imagine Miss Frizzle (of Magic School Bus fame) would wear, and I couldn't love them more.
$35
Shop Now >>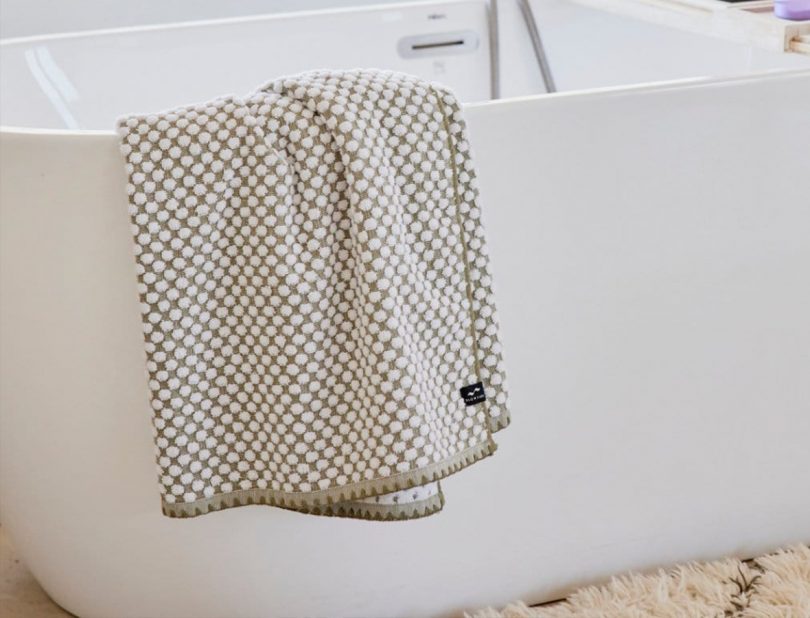 For those committed to the checkerboard cause, this Bath Towel Set by Slowtide is all you need to outfit your entire bathroom and includes 2 bath and 2 hand towels. The towels' luxe feel rivals that of the bougiest day spas, and the embossed checkered print only adds in comfort and style. The muted grey-olive tones of the Army colorway will appeal to neutrals fans and color enthusiasts alike, making the checkered design the star of the show.
$100
Shop Now >>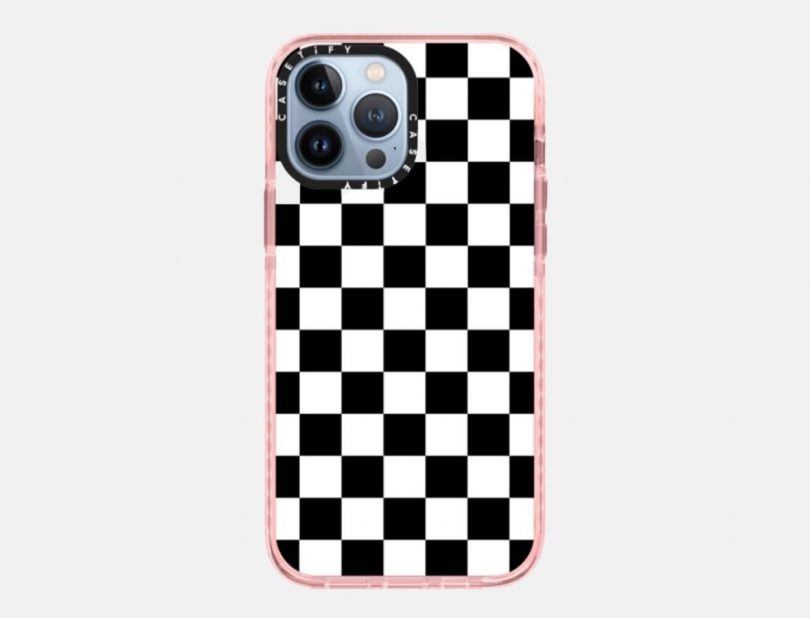 Another Casetify winner, this black and white checkerboard pattern phone case is a true call back to my old-school Vans days. The classic size and colorway of the pattern makes this phone case a retro staple, and the customizable case bumpers are an easy way to accent the iconic pattern with your personal style. The phone case is even made of 65% plant-based and recycled materials!
$75+
Shop Now >>
This Heymat rug has been a longtime Design Milk favorite, and with its unique take on the checkerboard print, it's easy to understand why! Made of 100% recycled plastic, the Mix Teklan Rug features checks of mixed sizes and colors. Between the 70s inspired palette, the soft contrast of its earthy pastel tones, and it's eco-friendly design, this rug is a must for sprucing up your entryway.
$160
Shop Now >>
Because it's impossible to pick a favorite among their expansive checkered print offerings, check out the team at Galaxy Eyes Studio on Society6 for more checker printed home goods. The brand's warped, op-art take on checkerboard patterns come in a variety of colors from deep olive greens, baby blues, and soft lavenders to warm oranges and pinks. My personal favorites? The checkered print floor pillows and wall murals for a fun and playful decorative statement.
$ varies
Shop Now >>
Shopping these checkered print favorites?
Share your haul and tag us @designmilk to be reposted to our Instagram!
Source: design-milk