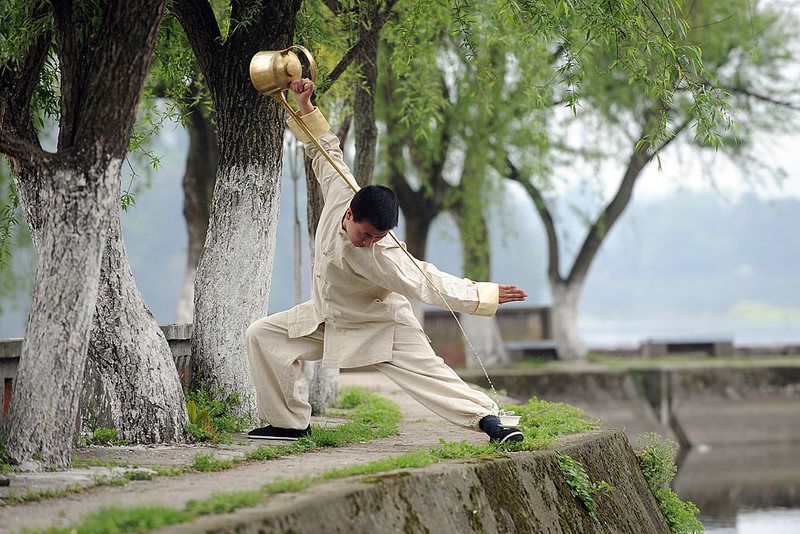 The phrase Kung Fu Tea brings us to Chengdu, where you'll find the city's famous intricate tea pouring performances. In these performances, men and women perform sequences of acrobatics, dances, and martial arts while maneuvering long-spout teapots and filling the teacups of their lucky patrons.
However, there is an underlying question with regards to Kung Fu Tea. Is it performance or tradition? Atlas Obscura's Jordan Porter gives us some insights:
Zeng's style of kung fu tea has certainly become a calling card of the city of Chengdu, and synonymous throughout China with Sichuan tea culture.
However, tea culture in Chengdu is unpretentious, more the setting for socializing than the high art of the tea ceremony.
Wu Bo, a young local tea master tells us that true kung fu tea is the opposite of performance, and almost minimalist in its expression. "You can spend all your money on fancy teaware, or learn special movements, but a real tea master can make great tea in anything," she says.
The creator of the performance type Kung Fu Tea admits that performance is not enough to give the art meaning, and that the real kung fu tea is the art of making great tea :
Zeng's style of kung fu tea has certainly become a calling card of the city of Chengdu, and synonymous throughout China with Sichuan tea culture. However, he fears that performance itself is not enough to give the art meaning, and actively takes time to pursue the study of tea. He requires his disciples to study as well, sometimes forcing them away from their athletic training to sit down and actually learn how to pour. "I feel a responsibility," he says. "I am the creator of the long-spout teapot performance. I need to make sure my students learn about the real kung fu tea as well."
image via atlas obscura
Source: neatorama