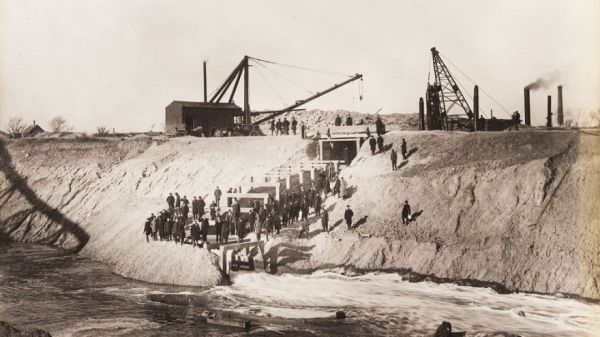 Chicago in the 19th century had a problem. The city treated the Chicago River as a waste-disposal system, carrying sewage, garbage, and dead animals away to Lake Michigan. The problem was that the city also drew its fresh water from the lake. Engineer Ellis Sylvester Chesbrough tackled the problem by moving the city's intake valve further out in the lake. Separating the intake from the mouth of the river was a temporary fix, because how far away is far enough?
It was once again Chesbrough who came to the city's rescue. Chesbrough proposed an audacious plan—reverse the flow of the river away from Lake Michigan. Chesbrough's outrageous plan worked like this: just west of Chicago River lies a barely perceptible ridge called the Chicago Portage, that separates the drainage basin of the Great Lakes from that of the Mississippi River. Rainfall on the west of this divide flows naturally towards the Des Plaines River, which moves southward to converges with the Kankakee River to form the Illinois River, a tributary of the Mississippi. Any rainfall on the east of the divide flows into the Great Lakes. Chesbrough thought that if a canal could be dug through this divide and made it deeper than the water level of the Chicago river and the lake, gravity would cause the Chicago River's stinky water to flow backward away from Lake Michigan.
The plan was massive and took years to complete. And it worked! Chicago no longer had to worry about sewage in their drinking water, because it was going into the Mississippi River instead. Which was now a problem for every settlement along the Mississippi, including St. Louis. Read the story of Chicago's scheme to deal with wastewater at Amusing Planet.
Source: neatorama