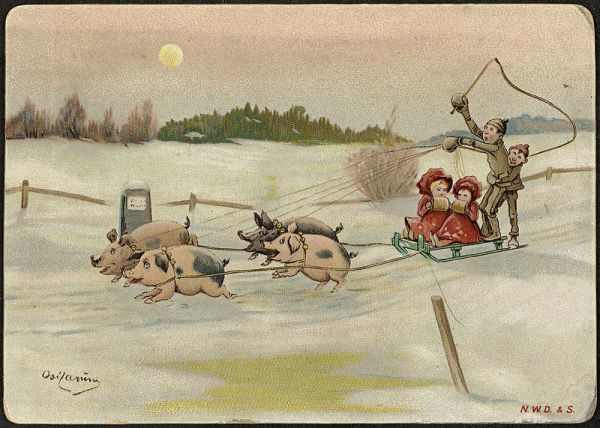 Christmas, and the midwinter festivals that preceded it, have been around a very long time, so there is no end to the superstitions surrounding the holiday. The turning point of winter at the solstice was traditionally the start of a new year in northern climates, and therefore people did everything they could to ensure food, fortune, and fertility for the coming year. And it being winter, they had plenty of time stuck inside to come up with the "rules." Here is a small sampling.
Societal pressure to be happy and in love at Christmas is nothing new, consequently there is a glut of love divination superstitions for this time of year, strangely all aimed at women. For example, young women who go out and hit pigs with a stick at Christmas can tell the age of their husbands-to-be, presumably if they can avoid being arrested for trespassing and pig-bothering in the meantime. The first pig to squeal determines the age: old pig, old husband; young pig, young husband; no squeal, no husband.

If there's a hen house next to the pig sty, knock on its door between 11pm and midnight. If the rooster answers, you'll be married; if the knocking is followed by silence, you'll not marry. Probably best to check there's a rooster in there first, and make sure it is before midnight, as farm animals are briefly gifted with the power of speech at this time – naturally it's fatal for a human to hear them.
There are also superstitions surrounding decorations, Christmas food, and gifts, at Folklore Thursday. -via Strange Company
Source: neatorama