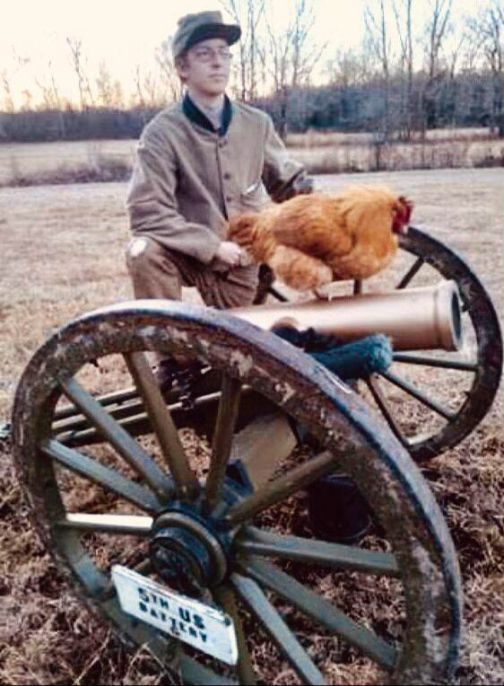 Thomas Ramsey (left), of Gallman, Mississippi, is a Civil War reenactor. Peep, his pet rooster, accompanies him into the mock battles. It's solid history, Ramsey says, because of the account of a Confederate soldier who kept a pet rooster in this manner until he was finally eaten by Union soldiers (the rooster, not Johnny Reb).
All was merry for Ramsey and Peep until the pair was travelling from a reenactment and stopped at a Cracker Barrel restaurant in Cullman, Alabama. The restaurant did not allow chickens inside, and so Ramsey tied Peep by his leash to his truck while Ramsey and his friends went inside.
When the reenactors returned to their truck, Peep was gone. The Cullman Times quotes Ramsey:
"I went back into the Cracker Barrel and it was very hard for me to say this with a straight face, even though I was panicking: 'Do you have cameras in the parking lot? I think someone stole my chicken,'" he said. Someone overheard and said they'd seen Peep wandering in the parking lot.
Animal control authorities searched, but were unable to locate Peep. The call went out on Facebook and the people of Cullman sought out Peep. Eventually, a local farmer located the rooser and reunited him with Ramsey:
[…] Ramsey felt like Peep was happy to be back with him. "He stood up and kind of jumped when I got him," he said.
There's no doubt about Ramsey's affection for Cullman. "I was really impressed; I love y'all's town now," he said. "I can't think of many places where there are that many people willing to take the time to help out like that."
-via Dan Lewis | Photo: Thomas Ramsey
Source: neatorama