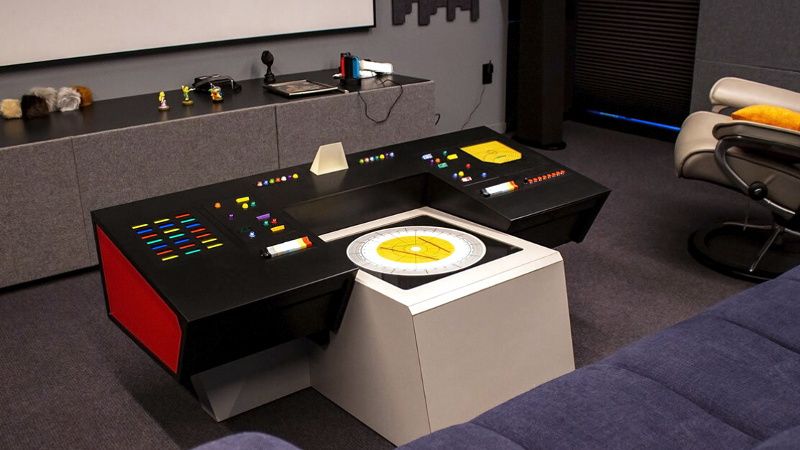 Blackmouth Design, a custom fabrication firm in Seattle, made this home entertainment console and table for a dedicated Trekkie. It's built to imitate the navigation and helm console from the Enterprise on Star Trek. One of the engineers describes the build on reddit:
The table is approx. 56″ x 36″ and 21″ tall. It features 16 vintage rocker switches that activate custom programmed light patterns (Screen accurate LED backlit replica resin "gumdrops" controlled by an Arduino Mega) and plays sound effect audio files from The Original Series as well as a few hidden Easter Eggs (like playing the theme song or the Amok Time fight music) when the correct combination of switches are thrown.
In addition to the 16 rocker switches there are 8 red momentary push buttons that control the customers home media system (Turn on/off lights, lower projector screen, etc.). The table top and trim are 3/16″ Powder coated Aluminum over red, grey and black laminated plywood. LED backlit graphics (recreated from scratch) sit under 1/4″ plexiglass panels. The table also has 2 drawers for game controllers and remotes as well as 2 hidden shelves to support beverages.
-via Hack A Day
Source: neatorama