Incredible as the 1950's were so far as film, television, and popular culture are concerned, 1959 was a true annus mirabilis for television. Among many other debuts, that year gave us Rocky and Bullwinkle, Slam Bang Theater, Bonanza, The Untouchables, The Twilight Zone, Dennis the Menace, and – Clutch Cargo.
Clutch Cargo was one of the most unusual programs ever seen on television, and it was intended as a childrens' cartoon program. What made it so unusual was its animation; the voice actors were filmed during the recording sessions and their moving mouths extracted and superimposed on what were otherwise still figures. The effect was at once creepy and fascinating. All other animation such as character movement was held to a bare minimum.Clutch Cargo himself was a writer and pilot who took on an assortment of dangerous assignments, always bringing along a young boy, Spinner, who was apparently his ward (as Dick Grayson was to Bruce Wayne), and the boy's dachshund, Paddlefoot. They were involved in a variety of adventures for several seasons. Adventure awaited at every juncture, villains were defeated, good people prevailed. Each episode contained five chapters, the first four were cliffhangers and the finale upbeat.
This was also an unusual program in that you either loved it or hated it. The IMDb User Reviews contain about an equal distribution of each and you will find the assorted commentary quite interesting. Still, it is worth watching just to experience the 'Syncro-Vox' technology used to animate the characters' mouths.
All episodes appear to be available on YouTube and a typical one is embedded below. I haven't seen these on television since about 1962 but have fond memories of them. Clutch was a genuine 'good guy' and an intended role model, but you would never find a series such as this on television today. More's the pity.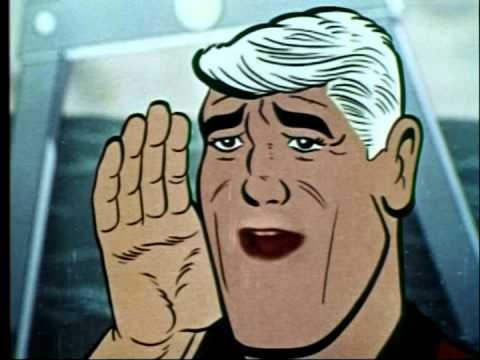 Source: neatorama