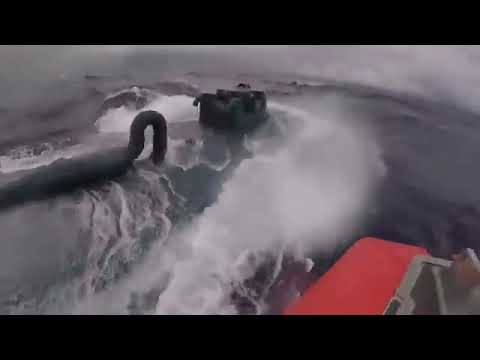 Some enterprising drug smugglers get their products into the United States by building semi-submersible craft that are barely visible from the surface.
On June 18, while patrolling off the coast of Colombia and Ecuador, the US Coast Guard cutter Munro (named after the only Coastie to be awarded the Medal of Honor) spotted a semi-submersible. It dispatched two fast interceptor boats to capture it.
In this amazing video, two Coasties actually jump on board the moving submarine and knock on the hatch for attention. The Washington Post reports:
Inside was more than 17,000 pounds of cocaine worth an estimated $232 million, said Lt. Cmdr. Stephen Brickey, a spokesman for U.S. Coast Guard Pacific Area.
"They're like the White Whale," Brickey told The Washington Post on Thursday, describing narco-subs. "They're pretty rare. For us to get one, it's a significant event."
The Pacific region monitored by the Coast Guard is about the size of the continental United States, Brickey said, likening the mission to a pair of police cars patrolling the country.
Brickey said patrols may encounter a narco-sub once a year or so. Boarding them can be "hairy," he said — smugglers can be armed, and when caught, they typically open a valve to quickly fill the vessel with water, sending all the drugs and evidence to the ocean floor.
But the crew was unable to scuttle their submarine, so the Coast Guard sank it after removing the contraband and arresting the crew.
-via reddit
Source: neatorama