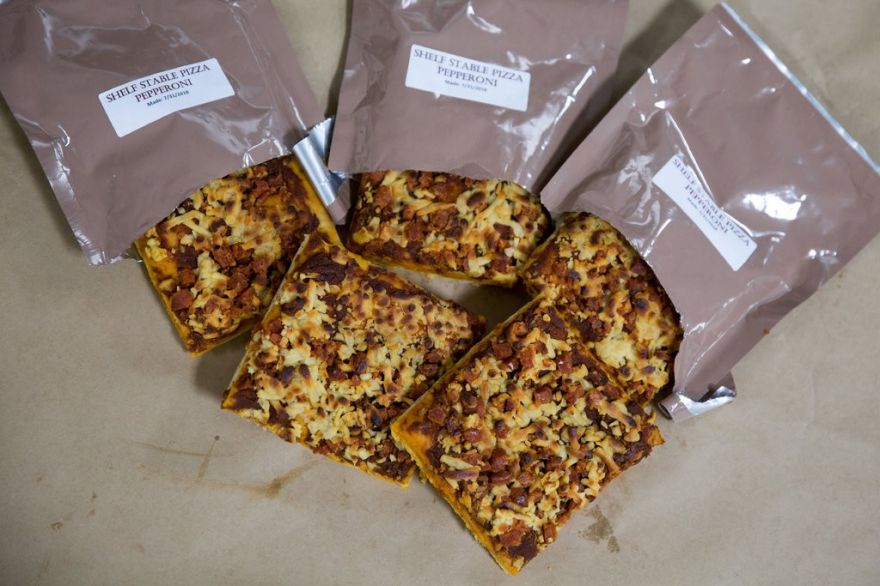 An army marches on its stomach, as Napoleon supposedly said … and what better food to feed the troops than pizza?
Now, after two decades and hundreds of failed attempts, the Army's Combat Feeding Directorate has finally created the combat-ready Meal, Ready to Eat (M.R.E.) pizza.
Dave Philipps of The New York Times has the scoop:
Now being shipped to military bases around the world, the newest of 24 current M.R.E. options is a humble three-by-five-inch Sicilian-style slice, scattered with melt-proof shreds of mozzarella and pebbles of mild pepperoni, sealed in a dun-colored laminate pouch.
It isn't much to look at, even by free-pizza standards. But this is no ordinary slice. To quality for M.R.E. duty, a food item has to be able to survive years of storage in a dank ship's hold or a sun-baked shipping container, withstand Arctic freezes and tropical monsoons, stave off assaults by insects, and remain intact through a parachute airdrop or even a free fall from 100 feet.
Forget 30-minute dlievery – Army regulations say it has to stay fresh for 36 months. And after all that, the pizza still has to be tasty enough to eat.
Photo: Kayana Szymczak for The New York Times
Source: neatorama