I'm convinced that Copenhagen can do no wrong when it comes to design, especially when it comes to hotels. It's like the city can do no wrong in creating contemporary spaces that are still filled with warmth and classic detailing. This is especially true of the Nobis Hotel Copenhagen, a modern hotel situated inside a 5,400 square meter building originally designed by Martin Borch in1903.
Don't be fooled by the hotel's concrete exteriors. As part of the Design Hotels collective, the Nobis beautifully mixes contemporary and classic design throughout the hotel's interiors designed by star architect Gert Wingårdh. This is his "updated take on Le Corbusier. Danish classicism, which this building is a fine example of, is something special—more sophisticated, more stripped down than in Sweden."
The guest rooms range from Superior, Superior Loft, Deluxe, Junior Suite, Penthouse Suite, and the hotel's crowning glory, the Nobis Suite.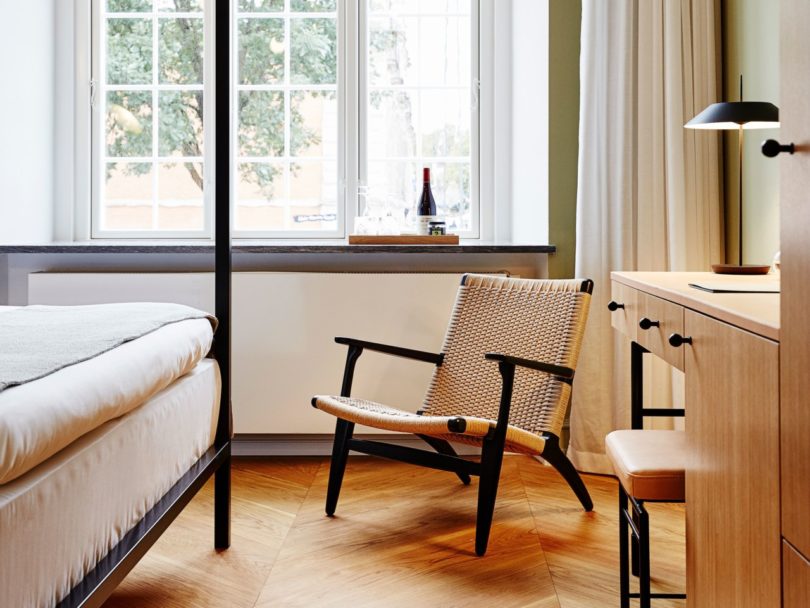 It's a beautiful balance of design throughout the decades. The original motifs, wood + marble staircase, and crown molding instantly transport you through time while the blue-green color palette, minimalist pendants, and modern furnishings bring you back to the present.
In addition to the 75 rooms available, guests can also enjoy their time here at the gym, sauna, cooling room, hammam, bar, lounge or the Restaurant Niels serving up classic Nordic cuisine.
What: Nobis Hotel Copenhagen
Where: Niels Brocks Gade 1, 1574 København V, Denmark
How much? Rooms start at approximately $331 per night.
Highlights: Modern travelers will love the Nobis Hotel for its Danish, highly-Instagrammable interiors.
Design draw: You'll be hard-pressed to find another hotel that's able to retain the most beautiful details of the original building and incorporate modern furnitures and fixtures that complement the classic design.
Book it: Visit the Nobis Hotel Copenhagen

Source: design-milk