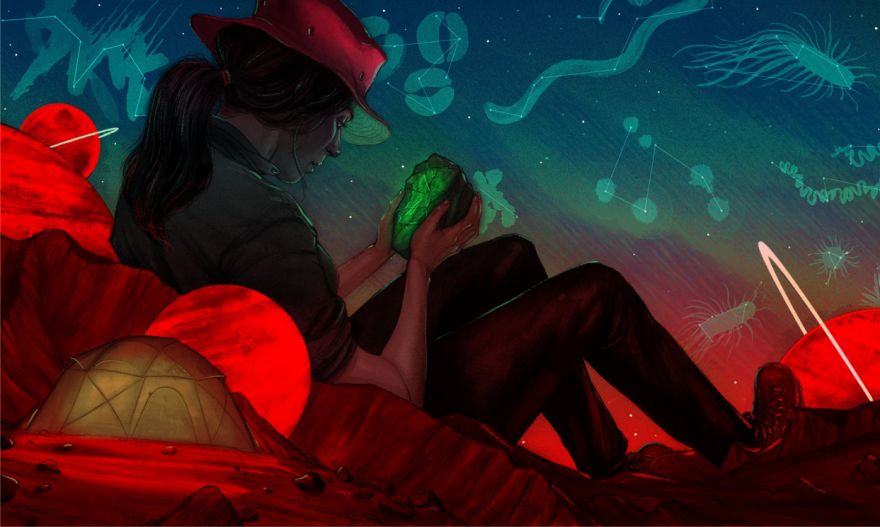 In our search for alien life or any other kind of extraterrestrial creatures, nothing has come up as of yet but scientists do not discount the possibility that there is life in other planets or perhaps even in other galaxies. For a group of astrobiologists, their search starts in Earth's oldest desert, the Atacama.
Ahead of my silver SUV, I saw a rolling Martian world of sand-colored rock spread beneath a blazing blue sky. No mosquitoes buzzed near our ears; no birds flew overhead. Wilhelm walked a few dozen feet away from the convoy, stopped, and stooped. Then everyone saw it.
A pebble field roughly the area of a two-car garage was dappled with chartreuse flakes: lichen. The first life we'd seen in days. Wilhelm crouched in the heat and squinted, flashing her hot-pink eyeshadow. She scooped some rocks into a sterile canister.
In many places in the Atacama, such hardy creatures are the only life forms, and Wilhelm and other scientists think that they might be similar to the last surviving life on Mars—if Martian life ever existed.
If we don't see any extraterrestrial life form now, maybe they visited us long ago and remnants from that visit could give us some clues that would enlighten us.
(Image credit: Zoe van Dijk)
Source: neatorama