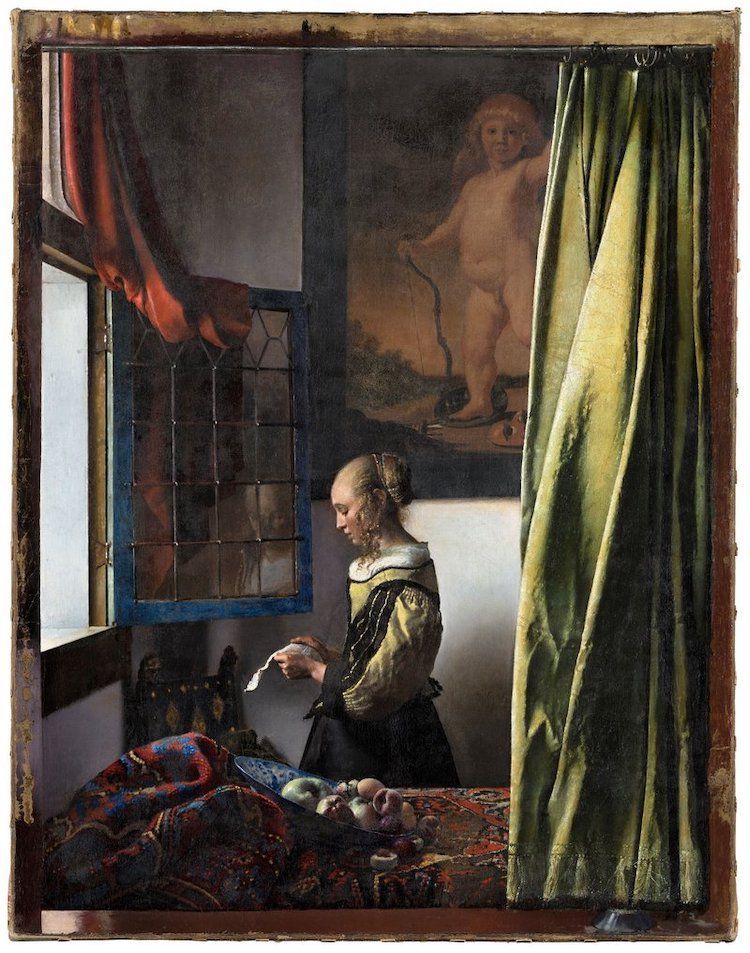 The Staatliche Kunstsammlungen Dresden in Germany revealed the results of their restoration of a Johannes Vermeer artwork, and there was a hidden detail in the painting all along! The museum took two and a half years to restore Vermeer's Girl Reading a Letter at an Open Window. Thanks to a research project in 2017, it was revealed that the blank wall in the painting was not done by Vermeer. Instead, the overpainting was completed several decades after the canvas was finished. This conclusion motivated art historians to uncover what was covered up:
Once the work was completed in early 2021, art historians could gain a new appreciation for the painting. "With the recovery of Cupid in the background, the actual intention of the Delft painter becomes recognizable," states Stephan Koja, director of the Old Masters Picture Gallery. "Beyond the ostensibly amorous context, it is about a fundamental statement about the nature of true love. So before what we looked at was only rudimentary. Now we understand it as a key image in his oeuvre." In fact, as Koja points out, Girl Reading a Letter at an Open Window stands at the beginning of a series of painting in which Vermeer shows a woman in a quiet, reflective moment.
Now, thanks to the restoration, art lovers around the world will be able to enjoy the artwork as Vermeer intended. To celebrate the finished restoration, the painting has been placed at the centerpiece of a new exhibition at the museum. Johannes Vermeer. On pausing will run from September 10, 2021 to January 2, 2022 and will include nine other paintings by Vermeer closely related to the restored artwork.
Image credit: Staatliche Kunstsammlungen Dresden / Wolfgang Kreische
Source: neatorama