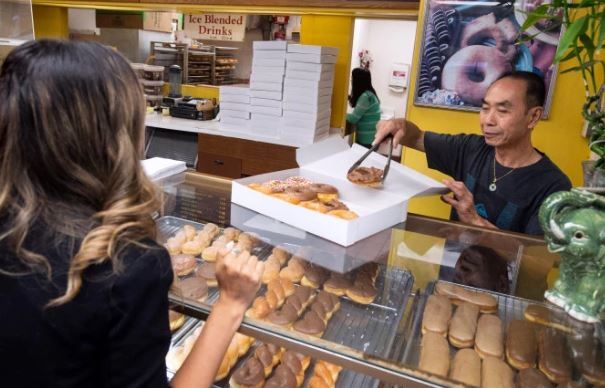 For 28 years, John and Stella Chhan, husband and wife owner of a donut shop in Seal Beach, California, have been helping their customers.
But a few weeks ago, people started noticing that Stella had been absent from the donut shop … Turns out, Stella had suffered an aneurysm, and that's when his customers sprang into action:
"Days went by and I just couldn't get it out of my head," said Dawn Caviola. "So I thought, if enough people would buy a dozen doughnuts every morning, he could close early and go be with his wife." Caviola, "thinking out loud," floated her idea on the neighborhood networking site Nextdoor early last week. The response was immediate and enthusiastic. Ever since, Chhan has sold out by noon – some three hours earlier than usual – freeing him to visit his wife at the rehabilitation facility. "We are so thankful," said Chhan, 62, holding both hands over his heart.
Read the rest over at this heartwarming article by Susan Christian Goulding over at the Orange County Register.
(Photo: Paul Bersebach, Orange County Register/SCNG)
Source: neatorama