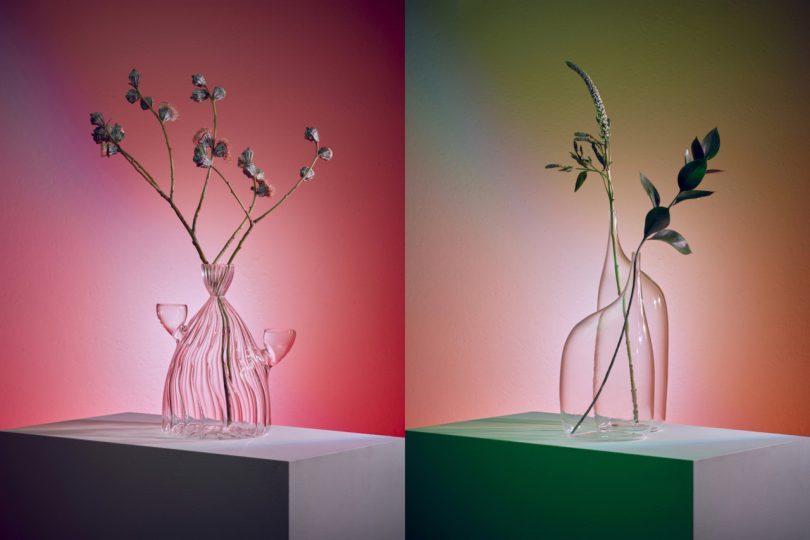 Designed by a group of young international designers from Fabrica Research Center in Italy for PLEASE DO NOT ENTER, Da Vetro is a limited edition glass collection of vases, carafes and containers that are inspired by human gestures, postures and scale.
There are eight designs in the collection, all of which are hand-blown in Italy by glass blower Massimo Lunardon. Only a limited edition of 30 pieces are made for each design.
308 s by Lukas Valiauga from Lithuania has a futuristic, space-inspired shape. It's actually a sand timer that counts down to a Martian five minutes, which is 2.8% longer than Earth minutes.
Slipped My Mind by Elena Bompani from Italy has a lower figure that's inspired by the shape of a bust while the handle is inspired by the shape of a face, alluding to the idea that memories, like flowers, can be short and fleeting.
Corolla by Guglielmo Brambilla from Italy has two components, a cylinder and a cone, to protect a single flower.
Lorea by Ainhoa Garmendia from Spain has multiple smaller vessels for additional flowers and leaves to grow.
Little Flower Lab by Jo-Chieh Huang from Taiwan is a place for everyday flowers that we might deem as insignificant.
Wealth Distribution by M Wingren from USA is a cheeky interpretation of global wealth distribution, where the majority of the vessel is "non-enterable."
Organicum by Silvia Matias from Portugal evolves and follows the curve of the plant from stem to tip.
Cuddle by Myungsik Jang from Korea has two separate glass elements that make up of a whole vase inspired by the embrace of a mother and child.
Da Vetro will be a part of an exhibition called "Short Memories" at /THE LAB/, a creative platform by PLEASE DO NOT ENTER to highlight contemporary art and design. The exhibition will be held at the NoMad Hotel in Los Angeles from March 15 – April 8, 2018.

Source: design-milk