The Other Art Fair's Guest Curator series presents emerging art handpicked by some of today's most celebrated artists, designers, and cultural tastemakers. Selecting original works from our community of exhibiting artists, Guest Curators have the opportunity to showcase their artistic tastes and express the role art plays in their lives.
In celebration of our Fall 2020 Online Studios refresh, we asked Michael Wyatt, the founder and curator of Full City Rooster, to curate a collection of his favorite works by Dallas Online Studios exhibitors.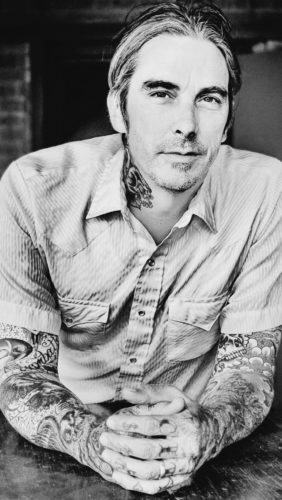 Founded in 2013, Full City Rooster is a small-batch specialty coffee roasting company located in the Cedars area of downtown Dallas.  Committed to supporting culture and community in various forms, their "coffee roasting studio" space, exhibits the work of local artists and, currently, works by Jean-Michel Basquiat, Jerry Bywaters, Jeff Baker, and Dan Rizzie among others.
---
Q&A with Michael Wyatt
What role does art play in your life?
I've been fortunate to have been surrounded by art most of my life. Art takes me out of my head and allows me to have a glimpse into the genius of others.
How would you describe your taste in art? What are you most drawn to?
I appreciate many mediums, but I'm most drawn to art that shows a depth of thought and technique that comes with a high level of focus and intent.
What was the first piece of art you purchased?
I was approached by an artist on the street with a pen drawing on a napkin, it was a beautifully drawn profile of a stranger.
What has been your favorite art exhibition thus far? 
I don't have a favorite — there are so many stellar ones. But I would like to see an entire show of the artist Genesis Tramaine.
If you could only own any artwork, which would it be and why? 
I would like to own a piece of art by Orthodox monk, Luke Sheffer. His work and his commitment to it is authentic, admirable and steadfast. This shows in the quality and depth of his art.
Which artists living or deceased would you like to meet? 
I don't have a great need to meet artists I admire. but I think I would enjoy meeting Maira Kalman. I've enjoyed her work my whole adult life. She seems to be interesting, whimsical, and clever.
Visit The Other Art Fair Online Studios, a new online platform offering art lovers around the world access to over 800 Fair artists. The Online Studios is keeping our community feeling inspired, engaged, and is continuing to spread joy through art.
Source: saatchiart.com