Ready to feel like Alice in Wonderland, or the ants in A Bug's Life, or the kids in Honey I Shrunk the Kids? If feeling small is up your alley, consider a contribution to Brooklyn artist Daniele Frazier's Kickstarter for upcoming project, Giant Flowers in Highland Park.
Frazier has been working with wind and fabric for four years, since she created an inflatable tube sculpture in the shape of a hammer and nail called It Takes Two. The wind interacting with the sculpture is chaotic and playful, and she's incorporated wind machines heavily into her textile work since.
Or, she did, until a year ago when, she tells Creators, "after traveling with a number of pieces that required air blowers and electricity, that I realized I couldn't continue working that way. I wanted the purity and convenience of just the sculpture and the wind." Since then she's created wonderful kites, wings for her car, and a small flower-shaped wind tube that flap about no electricity required. She cites as influences for her surreal and elegant work textile artists like Rosemarie Trockel, the readymade flower arrangements of Isa Genzken, and both Ree Morton's and Mike Kelley's flag art.
Now Frazier is raising funds on Kickstarter to install at least five flower-shaped wind socks in Highland Park, on the border of Queens and Brooklyn, at a massive scale. "The flowers, made of rip-stop nylon fabric, will inflate and move hypnotically in the wind," she articulates in the project description. "Each 12-foot-long brightly-colored flower will be a unique design and will tower above the park twenty feet off the ground. Not only will these joyous flowers be an unexpected sight to behold, but they will provide park-goers a real-life illustration of the changing weather conditions."
The project is rooted in Frazier's palpable love for her park. She heaps praise on Highland as a focal point for her neighborhood. "There are children's farm gardens that act as hands-on classrooms, barbecue areas, baseball fields, and numerous courts for tennis, handball, and basketball," she glows. "Despite being endowed with so many community offerings, the park has never had public art."
Of the $10,000 Frazier needs to make Giant Flowers in Highland Park a reality, the artist has already raised nearly $3,500. These funds go toward fabrics and craft that will make the flowers durable, long-lasting, and safe. "Your contributions will go directly toward the cost of the materials and labor needed to produce and install this artwork," she explains. "The major expenses are custom powder-coated steel flagpoles, fade-proof rip-stop nylon, the fabrication of the flowers themselves, and the equipment and assistance needed to cement the poles into the ground."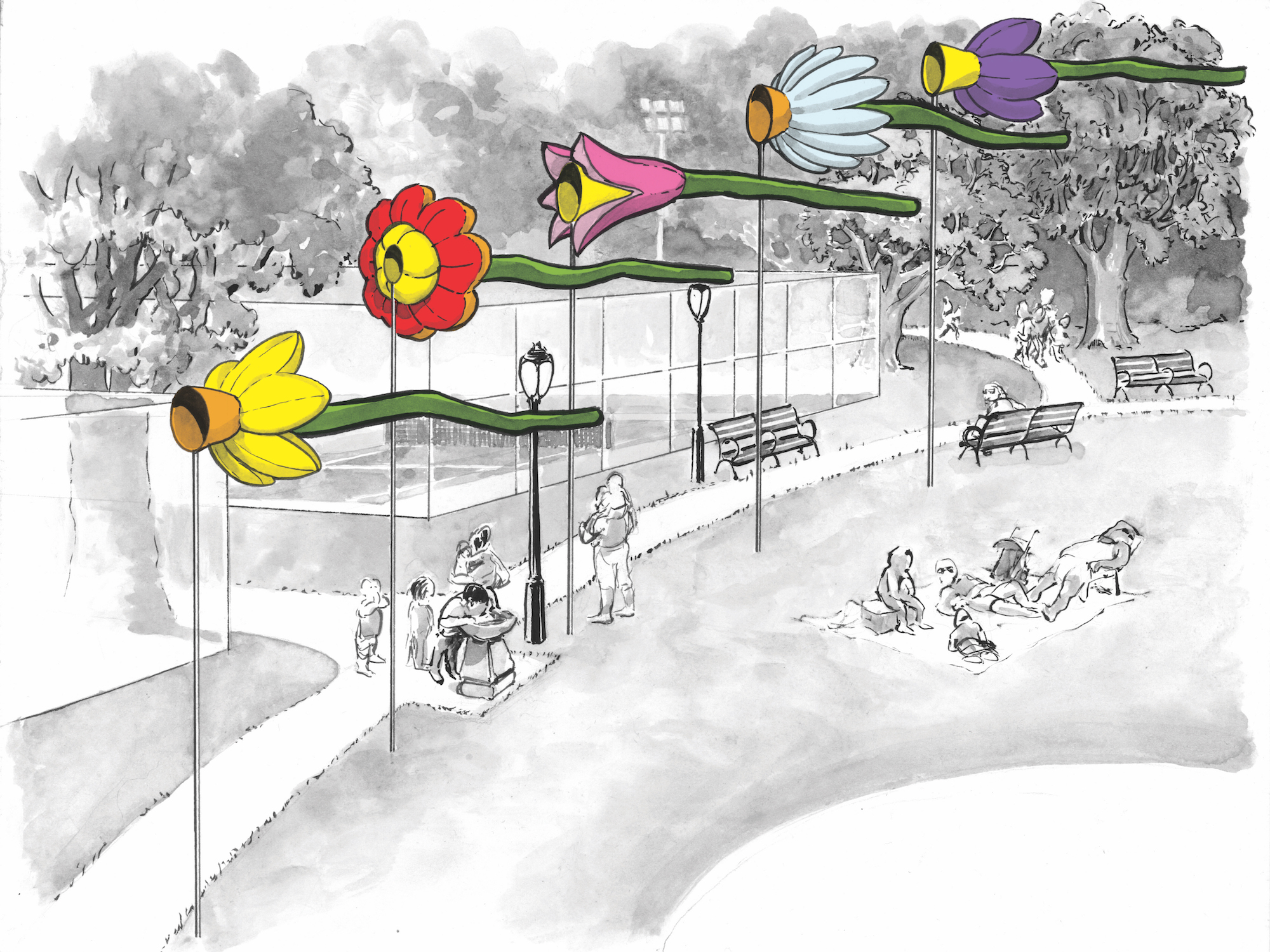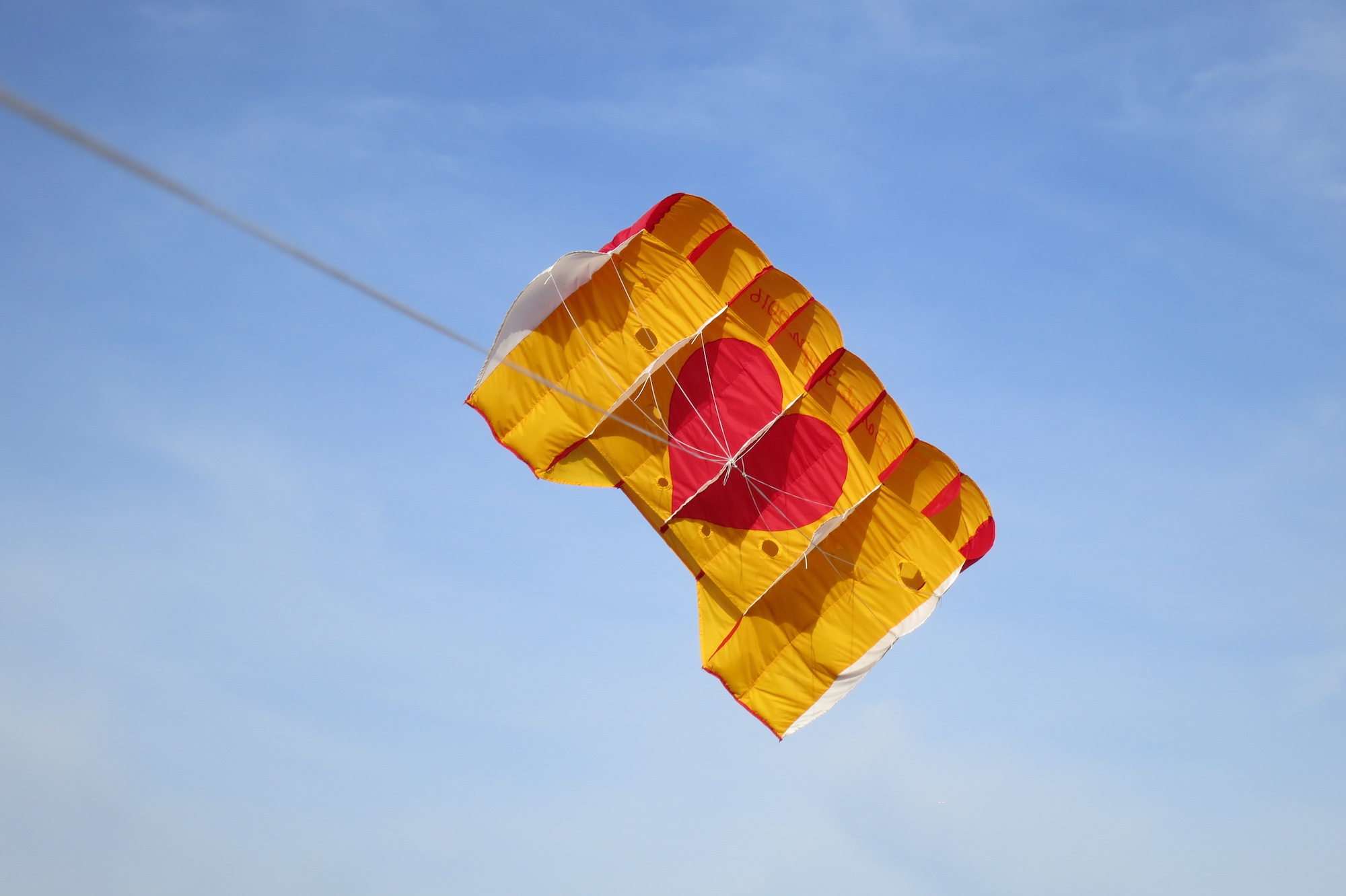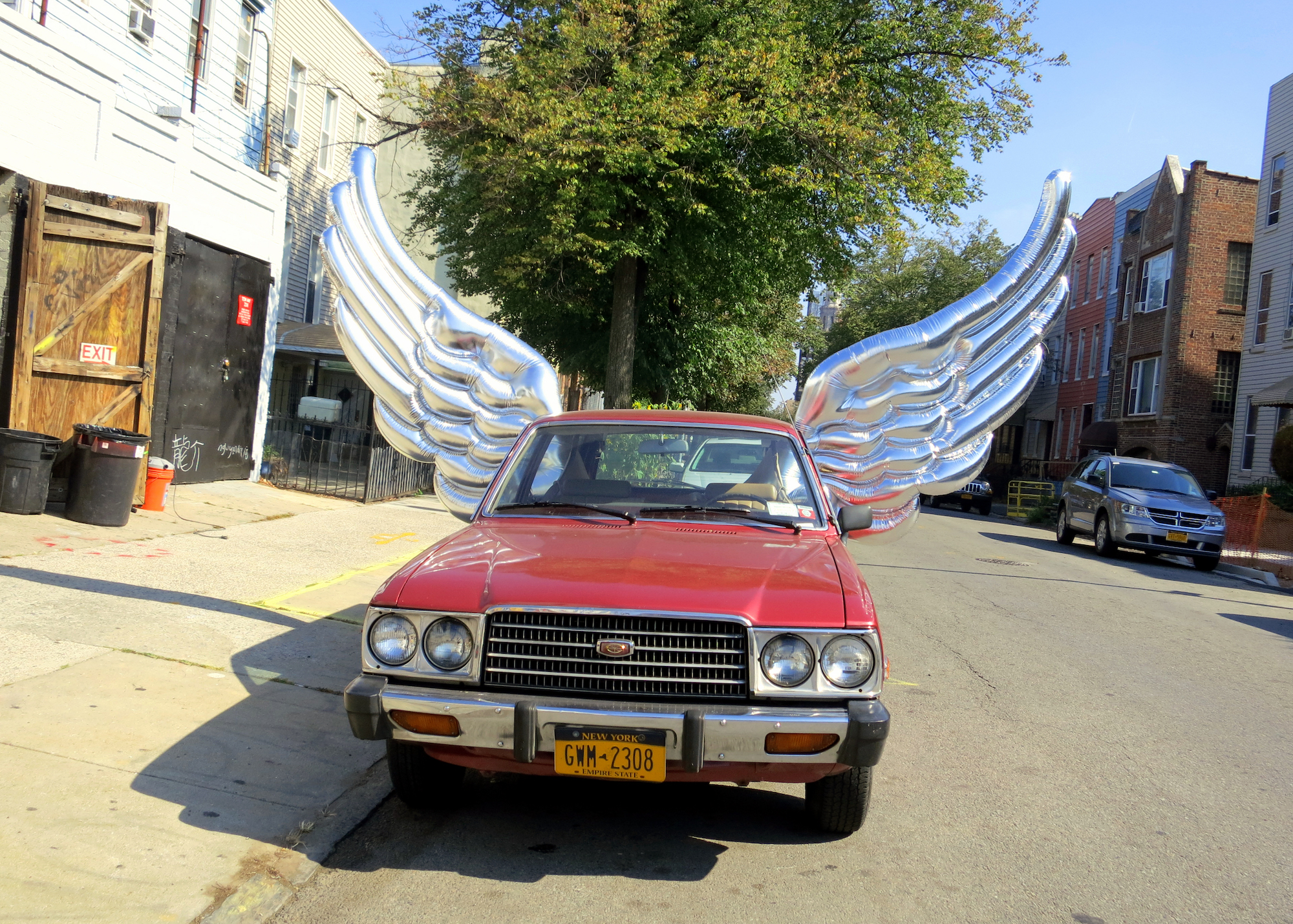 Frazier turned to Kickstarter to realize this public artwork because of the political turmoil roiling around the National Endowment of the Arts. "Normally an artist would apply for grants to pay for a project like this," she says. President Trump's administration has echoed the longstanding conservative desire to "trim" the NEA from the federal budget. Removing federal arts funding would be most harmful to grassroots organizations—read more about the extent of that potential damage here. Frazier continues, "We are now facing the prospect of NEA being defunded, depriving artists, musician, and writers of that valuable support. By creating a public campaign, I hope to shed light on the importance of public art by giving everyone an equal chance to contribute."
Donors will receive rewards like a unique enamel pin, bubbles custom-designed by the artist, a silkscreened poster that can be cut out and reassembled as a flower, your very own custom kite, and your name on a board in Highland Park. 
Donate to Giant Flowers in Highland Park here, and see more of Daniele Frazier's work here.
Related:
Anish Kapoor Is Bringing a Giant Whirlpool to Brooklyn

Trump's Potential NEA Cuts Would Shut Down Arts Groups to Save Us Each 46¢
400 Sparkling Nipples Shed Light on Facebook's Bullshit Nudity Policies
Source: vice.com