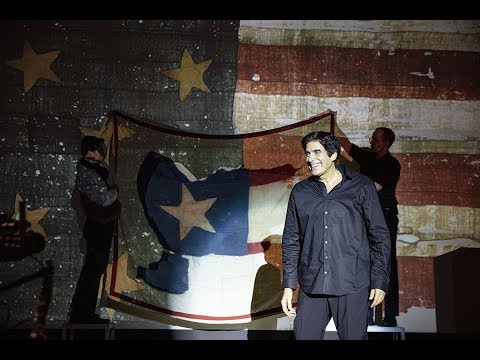 The original star spangled banner, the flag that flew over Fort McHenry and inspired Francis Scott Key to write a poem that became our national anthem, has been on display at the Smithsonian's National Museum of American History since 2008. On Flag Day last Friday, the museum held a special celebration that included a performance from illusionist David Copperfield, who magically sent a courier back in time to retrieve the missing 15th star.
"Reuniting the stars symbolizes how much stronger we are as a nation when we're united," Copperfield says. "At a time here where people could say that we're divided in many ways, the illusion can remind us that we are a diverse people that have done amazing things because of our differences—because of our backgrounds, our artistic skills, our languages, our cultures."
Considering the importance of the artifact, both the flag and the missing piece (which has not been found) used in the illusion were replicas. The actual star spangled banner is kept under glass, and only four people are authorized to touch it. The more important part of the Flag Day festivities at the museum was the naturalization of 14 new American citizens from 14 countries- one for each star on the star spangled banner. Read more about the flag and the illusion at Smithsonian.
Source: neatorama