The following post is brought to you by Florim. Our partners are hand-picked by the Design Milk team because they represent the best in design.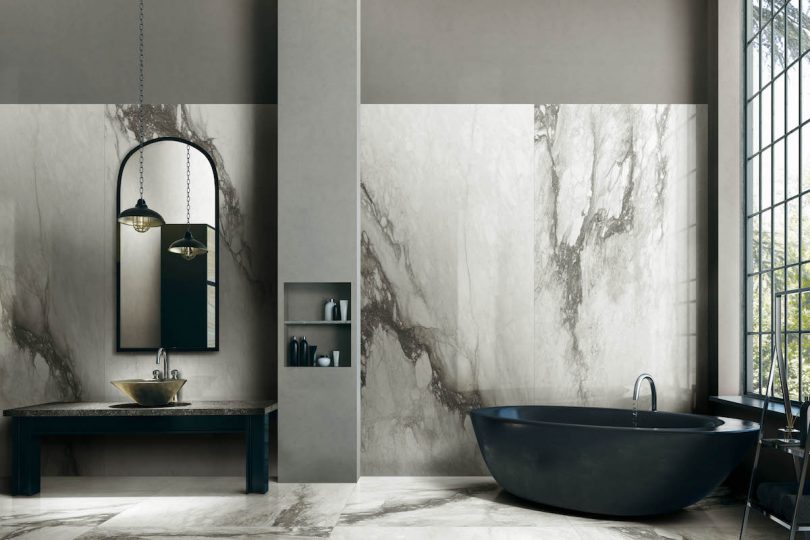 Florim Ceramiche has been producing porcelain stoneware ceramics in Northern Italy for more than fifty years, in a place just a few of hours from the Apuan Alps, Italy's most marble-rich region. The marble quarries with desirable stone coveted by everyone from the Romans to Michelangelo were part of the inspiration for Étoile de Rex, this latest collection in the Florim family of innovative tiles. Designers looked to the rarest marbles in the world when creating this collection, drawing inspiration both from stones in Italy as well as those on the other side of the world.
There are tiles inspired by rare Italian marbles like Cremo Delicato, a white-cream colored marble with brownish veins, extracted from the marble basins of Carrara of Torano and Miseglia. It's also inspired by stones found further afield, like Amazonite, a mineral from Brazil with magnetic greenish-blue hues that was coveted due to its perceived healing powers.
These inspirational stones are as fragile as they are rare, making them challenging for installation and use. Florim has spent decades refining a cutting-edge production technology that maintains the feel of the original material while simultaneously refining it. The Étoile de Rex collection provides the aesthetics of marble with the performance of porcelain. The collection, designed for floors or walls, features seven colors, in three surface sheens, offered in a variety of sizes, ranging from the traditional to oversized.
Those Romans, with their marble-clad cities, would have gone wild for this. Head over to Florim to learn more about Étoile de Rex collection.

Source: design-milk