Special thanks to Erin Dollar for helping put together this guide together.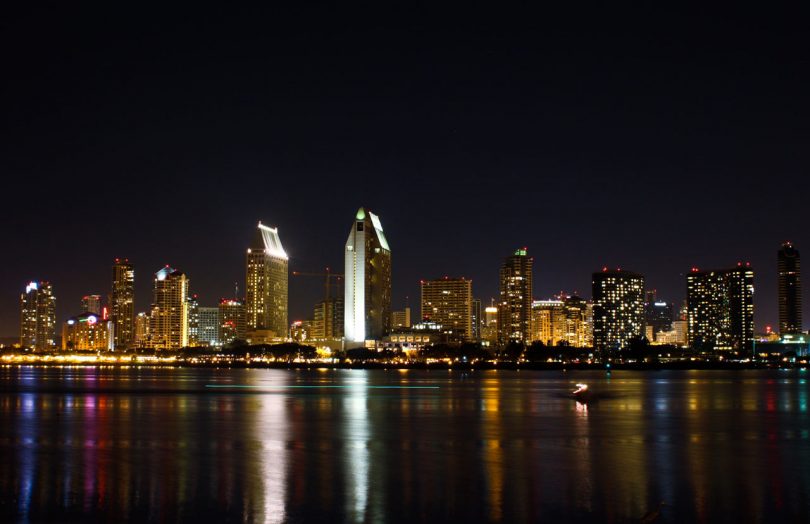 San Diego often flies under the radar… it's tough to compete with LA just a couple hours away. The easy-going culture of the city extends way beyond the beach. This community has more to offer than just great weather and theme parks — San Diego, California has a vibrant developing art and design scene, and historical architecture to inspire even sophisticated design devotees.
---
WHERE TO STAY
One Bunk
A gem of a vacation rental, One Bunk Ocean Beach is a thoughtfully decorated, mid-century landmark. Featuring exceptional post-war modern architecture and design, this historic Post and Beam home was designed by architect Loch Crane (an apprentice of Frank Lloyd Wright) in 1962.
One Bunk is steps from the beach, with a pool and a tasteful patio, but there's plenty here for indoor-types, too. The home is decorated with a variety of classic Danish modern pieces, including furniture by George Nelson, Noguchi, Charles and Ray Eames, and modern art from many San Diego allied craftsmen.
The Pendry
This hip, modern hotel takes up an entire block in The Gaslamp Quarter, the center of San Diego's nightlife scene. The hotel was developed by ACRM, with Rottet Studio and Studio Munge responsible for the 317 guest rooms and six distinct restaurants inside the hotel. The entry to the hotel features Etruscan concrete tile floors and coffered wood ceilings, speaking to the influence of Spanish culture in the city. The rooms are luxurious and hip, with Instagram-worthy tile floors, and wallpaper with playful motifs like surfers and tropical plants in a coastal blue hue.
Notable mentions: The Pearl Hotel \ The Lodge at Torrey Pines (Ranked #1 Hotel in the West by Sunset Magazine) \ Tower 23 \ Hotel Republic
---
WHERE TO VISIT
MCASD
San Diego's contemporary art museum is known for collecting works by promising emerging and mid-career artists, as well as by major figures in international contemporary art. The airy museum galleries house rotating exhibitions that highlight cool conceptual and pop art from the 1960s to the present, as well as installation art, art from Latin America, and art from California and the San Diego/Tijuana region.
Geisel Library
The futuristic concrete and glass Geisel Library building was designed by architect William Pereira in 1970, and remains one of the world's most modern libraries. This UC San Diego campus landmark was named for Audrey and Theodor Geisel (aka Dr. Seuss, another San Diego icon) in 1995. The building's unique geometric design is typical of Pereira's futuristic style — he's also known for the Transamerica Pyramid in San Francisco.
Salk Institute
Designed by architect Louis I. Kahn, the Salk Institute features open, unobstructed scientific laboratory interiors in a dramatic location meant to inspire creativity among its researchers. In developing his namesake Institute, Dr. Jonas Salk (the researcher who discovered the Polio vaccine), hoped Kahn could, "create a facility worthy of a visit by Picasso." Completed in 1965 and now designated a historical site, The Salk Institute is a functioning private research institute; guided tours are your best bet for getting an inside look into this stunning space.
Chicano Park Murals
Cross-border influence benefits the art scenes in San Diego and Tijuana alike, and the murals of Chicano Park highlight the rich cultural heritage of the Barrio Logan neighborhood. Painted directly on the concrete pillars of the I-5 Coronado Bridge, the artworks represent the world's largest collection of Mexican-American outdoor murals. The monthly Barrio Logan Art Crawl showcases the murals, as well as the neighborhood's art studios, galleries, and public art installations.
---
WHERE TO SHOP/EAT/DRINK
San Diego is home to plenty of unique shops to peruse between imbibing at local restaurants and well-appointed bars like Madison and Polite Provisions. In University Heights you'll find Maven, a tightly-curated space filled with fashion, skincare, and home decor from emerging designers like Cold Picnic, Baggu, and local ceramic makers Norden.
Just down the street, Cotton & Flax's micro-retail space showcases their modern textile home goods, as well as other emerging West Coast designers like Fruitsuper, Scout Regalia, and The Granite.
Out west in Point Loma, Moniker General has created a blend of third-wave cafe and retail shop. Their space in Liberty Station houses a craft coffee cafe and full bar with high ceilings and a hand-painted mural, as well as a retail shop filled with home goods and gifts hand-selected for quality, aesthetics, and functionality. Next door you'll find local favorite Pigment's new location, filled to the brim with beautiful plants, pottery and ceramics, and well-designed gifts.
Shop Good has set itself apart as a destination for clean beauty products in North Park. With a focus on natural wellness practices, Shop Good offers spa services, as well as a thoughtful selection of elegantly packaged natural skincare products. Around the corner, Artelexia highlights the Cali-Baja culture that makes San Diego unique. Vivid textiles, colorful cookbooks, and modern pinatas fill this fun shop. Need a break from shopping? Take a break with an effervescent hard kombucha in JuneShine's bohemian modern tasting room.
In South Park, The Book Catapult features a great range of fiction and non-fiction titles, including a well-stocked art, design, and architecture section. This indie bookstore has a kids' section that goes well beyond Goodnight Moon, stocking children's titles illustrated by some of the biggest names in art and design. Their rotating gallery wall features literary-themed artworks, like their current exhibition of bold poetry broadsides and decorative patterned monoprints created with typewriters.
San Diego is a beer town, home to 120+ craft breweries, the most of any region in the United States. Many delicious brews are originating in Miramar (sometimes called "Beeramar"), but Mikkeller Brewing's quirky illustrated labels and murals in their taproom set them apart. Beer isn't the only thing brewing in San Diego. Forward-thinking restaurants like Ironside Fish & Oyster and Campfire are creating beautiful dining experiences in high-design spaces.
---
FINAL THOUGHTS
If you're visiting San Diego for Thanksgiving, check out Uncommon San Diego, a fun way to shop San Diego's independent design shops, and explore the city as you start your holiday shopping.
San Diego is a design community in motion. The cross-cultural creativity of a border community combined with a development from the tech and life sciences sector mean that this city is growing into a hub for creativity. Whether you want to enjoy a tour of America's best breweries, or planning a weekend away at the beach, there's great design waiting for you in San Diego.
If you've traveled to the San Diego, California and have any travel recommendations, let us know below!

Source: design-milk