It's spring – Jennifer Huynh's favorite season. "I love spring flowers here in New York," says Huynh, founder of the trendsetting floral studio Future Flowers. "We have a cold, dark winter – so when spring rolls around, not only am I happier [in general], but I'm happy to use the new spring flowers coming in at the markets – the wild flowers and grassy elements that become more abundant during this time."
?????????????????
As the founder of Future Flowers, Huynh has worked with some of the biggest brands in the country – from fashion and beauty mainstays like Christian Louboutin and Saie to Cash App, the billion-dollar payments service. Her background in the fashion industry is evident in her work's beautifully measured aesthetic – never too much, always surprising, eternally new. For all those reasons we were delighted to ask Huynh to talk through some of our burning floral questions: How can we make our home bouquets a little more beautiful? Who does she most want to work with? And why are so many bouquets stuck in seasons long past?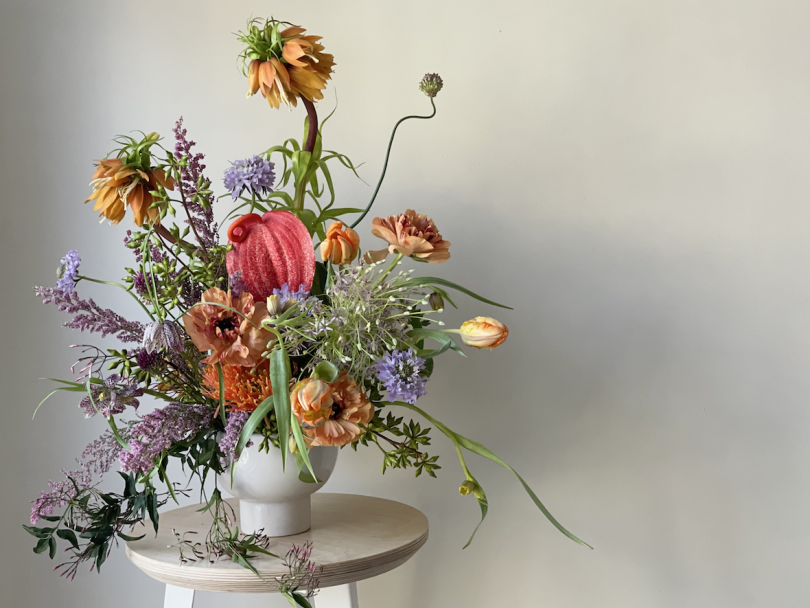 As to that last question, she has a theory: "The idea behind floral design has expanded a lot," she says. "I think that nowadays, we see a lot of artists pushing what floral design can be – so what we might have thought a table centerpiece has maybe changed a little bit and become more modern. The whole industry has kind of pushed forward and expanded, so these bouquets that we might have seen in the mainstream maybe feel a little dated – just because of how energetic and abundant certain flowers can be and [because] how we use them now has changed.'
For more – including a look at the gorgeous curly allium in her studio – tune in!
Diana Ostrom, who has written for Wallpaper, Interior Design, ID, The Wall Street Journal, and other outlets, is also the author of Faraway Places, a newsletter about travel.
Milkshake, DMTV (Design Milk TV)'s first regular series, shakes up the traditional interview format by asking designers, creatives, educators and industry professionals to select interview questions at random from their favorite bowl or vessel. During their candid discussions, you'll not only gain a peek into their personal homeware collections, but also valuable insights into their work, life and passions.
Source: design-milk