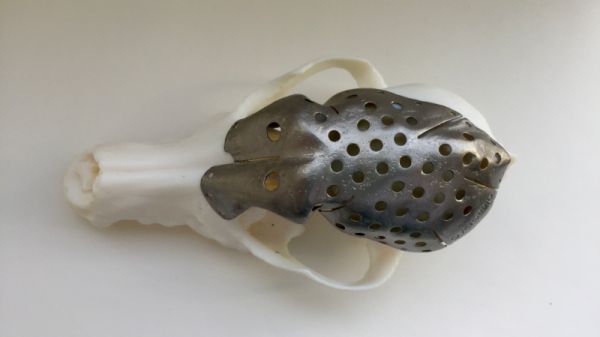 A Pennsylvania dachshund named Patches developed a brain tumor the size of an orange. The cancer invaded her skull and pushed her head up in a large lump. Patches' family was referred to the Ontario Veterinary College at the University of Guelph, where veterinary surgical oncologist Michelle Oblak recommended surgery.
Normally in a case such as this, the tumor and a portion of the skull would be removed, and a titanium mesh fitted in place, Oblak told the Canadian Press. Instead, Oblak and her colleagues used a new procedure in which a 3D-printed skull cap is specially fitted for the canine patient, which the researchers claim is more precise and less costly than conventional methods. Incredibly, the titanium cap replaced 70 percent of Patches' skull, which had to be removed during surgery. Oblak said researchers in the UK have done something similar, but on a "significantly" smaller scale.
Naturally, this kind of surgery raises questions about the expense, but the article does not address that. The surgery came through a teaching hospital that does research, which may contribute to the development of such techniques for humans eventually. Anyway, the surgery was successful, and you can see before and after pictures of Patches at Gizmodo. -Thanks, WTM!
(Image credit: Michelle Oblak)
Source: neatorama