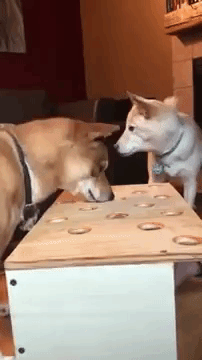 After a few minutes trying to get a bite of the tasty hot dog that his hooman pokes through the various holes of the cabinet, Fizzgig the Shiba Inu gets frustrated and then takes out his frustration to another dog in the room.
It is unclear if he got his tasty hot dog, as the video abruptly ends.
Poor doggo.
See the video over at Laughing Squid.
(Image Credit: Laughing Squid)
Source: neatorama