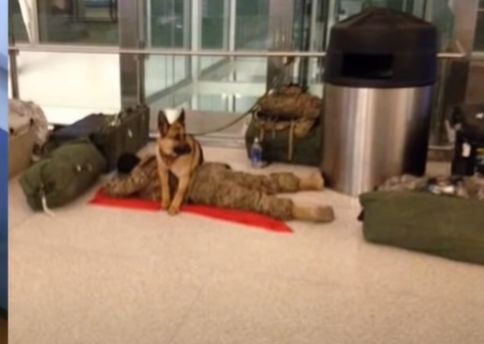 Such a caring companion! A soldier at the Indianapolis airport decided to get some quick shut-eye, and one of the dogs in the group of soldiers he was with quickly protected him as he slept. As you can see in the photo, it's both admirable and just downright adorable at the same time:
However, it's not always easy to nap in the airport. It's bright, loud, and there's always the fear that someone will steal our luggage. However, this soldier definitely did have to worry about that last point! One of the dogs in their group was quick to protect him while he slept.
The little battle buddy took their duties very seriously and went above and beyond to make sure that their friend was safe. That's all that anyone can ask from a bodyguard. These dogs are trained to protect their humans at all times, at all costs, and this is very evident when you see the photo.
Image via The Animal Rescue Site
Source: neatorama