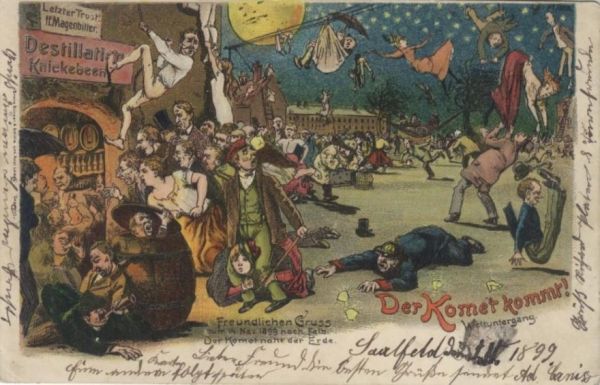 Astronomers knew about the periodic appearances of comets, but the return of Haley's Comet in 1910 came at a pivotal time in human history. Mass communications kept people informed better than ever before, with books, newspapers, and periodicals, while the average reader wasn't all that well educated in the doings of the cosmos. Into that world, eccentric French scientist Camille Flammarion wrote some sensational predictions in the journal L'Astronomie.   
The incoming of Halley's comet, he said, contained a poisonous cyanogen gas that "would impregnate the atmosphere and possibly snuff out all life on the planet." When The New York Times ran a story on his assertion, the fear amplified on a global scale in the tabloids. One science writer, Matt Simon, said folks were so frightened, they began sealing up the keyholes of their houses to "keep the poison out of their homes."

The "Sacred Followers" religious group in Oklahoma was reportedly planning on sacrificing a virgin to ward off the disaster, but was stopped by police. Comet pills, comet shelters, comet soap, and even submarine rentals became the norm for doomsday preppers.
So while many cashed in on the comet by selling souvenirs and anything with a comet theme, others leveraged the panic with survival elixirs and protection devices. Read about the comet panic of 1910 at Messy Nessy Chic.  
Source: neatorama