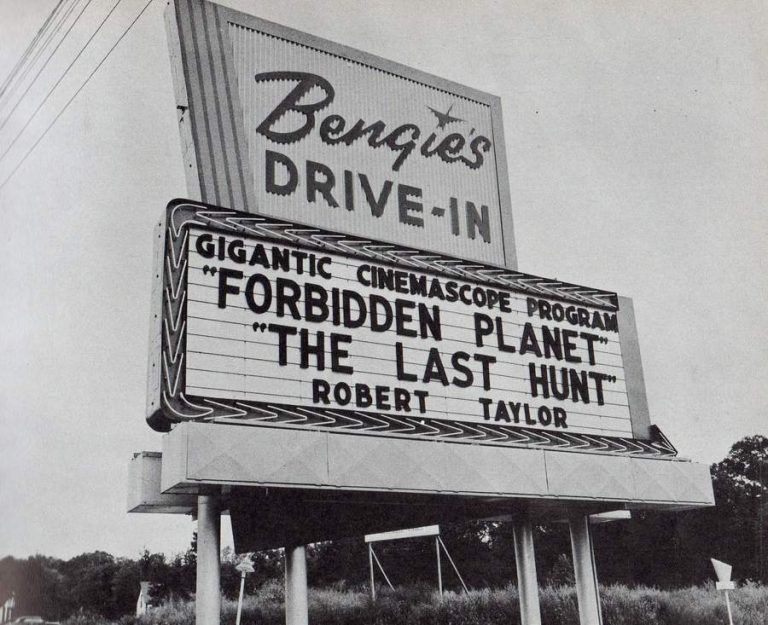 Ah, the drive-in theater. Most Neatoramanauts think they're like bigfoot; they've heard of them but have never seen one. Well, now's your chance.
I grew up in drive-ins, most especially the old Belknap Drive-in in Ft. Worth, Texas. Long gone today, its former site is occupied by apartments – the land just became too valuable with urban sprawl. But the Belknap was great – all you could cram inside of a car, even the trunk, for one low price, a double or triple feature, a playground for small children, right under the screen, kids in pajamas everywhere, a great snack bar with inside seating so you could watch the film, mosquito coils, and they even had a laundromat so mom could do a load or two of washing. And of course, you could bring in your own food and drink. Of course, for many teens, it didn't matter what was playing, if you get my drift. I sat through several dusk-till-dawn features in my youth, always war or horror movies, either old ones or true B-Movies. Nothing like it today.
Drive-ins in the USA largely became extinct in the 1980's; they used to be everywhere and most are now gone. Only in far West Texas, where there is lots of there there, and in the Rio Grande Valley do drive-ins still exist so far as I know, although I have read that they may be making a comeback. I'd welcome it.
In memory of Days Gone By, Flashbak offers a series of vintage ads (people actually read newspapers back then to find such information) and marquees of the era. Sadly, in a last-ditch attempt to survive, many drive-ins began offering adult films (you know the kind) and these pictures reflect that. A sad end, indeed, to go out that way. May the new generation succeed; every kid should experience a night at the drive-in.
Source: neatorama