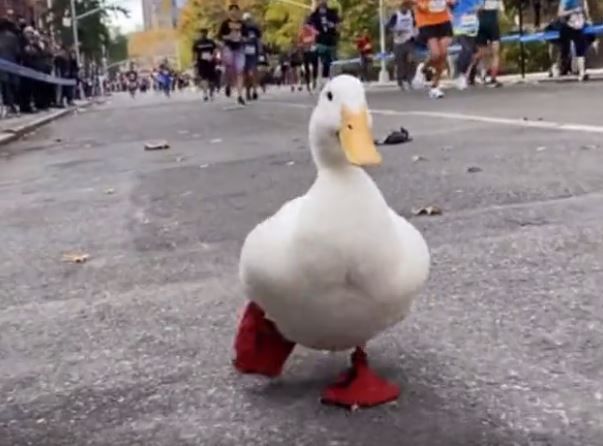 🦆 The 50th New York City Marathon this past Sunday had 33,000 humans and one duck participants. Meet Wrinkle the Duck, the viral Tiktok star who ran the NYC marathon in a stylish red webbed footwear.
🏠 This woman found hidden stairs under her patio that led to a secret room under her house.
🐂 150 bison are coming straight towards your car and there's no where for you to go. What do you do? Film the stampede, of course.
🎬 Forget the Matrix, enter the Keanuverse instead! How many Keanu Reeves movies do you recognize in this supercut?
🕹️ Best IKEA hack ever: Fan created Donkey Kong shelf using IKEA Lustigt Wall Shelf.
😴 The best time to go to bed for your health, according to science.
🤣 This last one is a funny one: Taking three boys to school is like The Three Stooges IRL.
More neat stories over at our new network of sites: Supa Fluffy, Homes & Hues, Pop Culturista, Pictojam and Laughosaurus.
Image: @seducktive/Tiktok
Source: neatorama