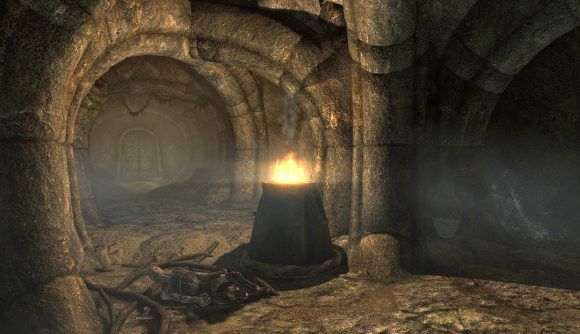 Here's a good reason to pick up Skyrim again! Thanks to modder Cooleoj's efforts, Skyrim's dungeons are being enhanced and resized to provide more ways to have fun in the game. The mod, called 'Dungeons Revisited,' adds a "lot of new paths, rooms, and enemies", and new "confusing" elements to the game's dungeons. While not revealing a lot about the mod, Cooleoj assures that both veteran and new players will get lost playing through the new modded dungeons:
All of the changes are in harmony with the themes of the base game's dungeons, as Cooleoj says they want the enhancements to be both lore-friendly and indistinguishable from the experiences Bethesda crafted.
The dungeons enhanced so far include some fan favourites, like Bleak Falls Barrow, which looms over Riverwood and plays host to one of the game's early main quests, and others. The list "thus far" is Ustengrav, Embershard Mine, Steepfall Burrow, Halted Stream Camp, White River Watch, and Hillgrund's Tomb – though it sounds like the modder's planning to revisit more.
If you're keen to grab the mod for yourself, you can find it atNexus Mods here. As ever, mod with caution, and be sure to check out our rundown of thebest RPG games andbest Skyrim mods on our home platform.

Image via PCGames
Source: neatorama