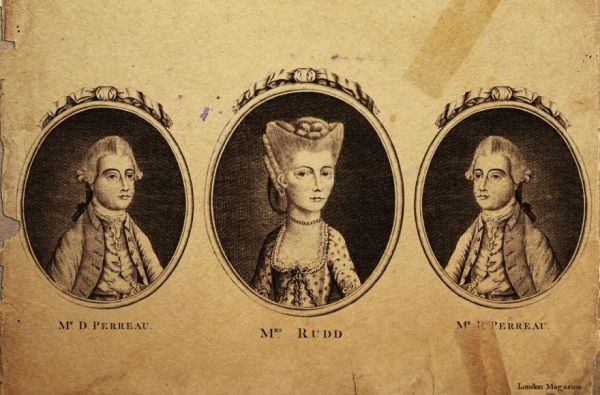 Margaret Caroline Rudd was a con woman in late 18th-century London. She lived a lifetime of spending other people's money in one way or another, getting away with the most audacious crimes by leveraging some peculiarities of the era. First, a husband was always considered responsible for debts incurred by his wife, no matter the circumstances. Second, crime victims were often blamed for their losses, and often were too embarrassed to complain. Third, a well-dressed, well-mannered woman of some class was given the benefit of a doubt. While Rudd had many ways of separating people from their money, her main career was prostitution.
She had her established clients, and a host of high-society connections to procure more. Blackmail and fraud were occasional sources of income, but for the most part she lived a lavish life as the mistress of a rotating cast of thoroughly beguiled, and often foreign, men. A certain reputation with the locals was inevitable, after all⁠⁠—yet even those who knew for certain that she had fleeced friends often found her irresistible when their turn came. She was by all accounts quite average in beauty, but as historian Sarah Bakewell put it, "Caroline had wit in the full eighteenth-century sense of the term: insight, intellect, adaptability, cynicism, and the ability to use language as a deadly weapon." She could talk her way into, and out of, anything, at least as long as the listener was male. Some of her lovers included the poet John Boswell (who wrote extensively of her wickedness even as he continued to visit her nightly), the Marquis of Granby (who died carrying a mind-boggling £37,000 in debt, due in no small part to Caroline), and possibly even King George's brother, the Duke of Cumberland.
Rudd had three children with David Perreau, and eventually roped his twin brother into a scheme to defraud. After so many years of getting away with various crimes, Rudd became the subject of a sensational and scandalous trial. Read about the crimes and trials of Caroline Rudd at Damn Interesting. The story is available in both text and audio.
Source: neatorama