Eadweard Muybridge: Human and Animal Locomotion, with a Live Score by Kite & Devin Ronneberg
scemcem
Wed, 04/22/2020 – 14:49
Celebrating the convergence of film and its place within the history of the American West, LACMA will be co-presenting a live stream screening of the motion studies of Eadweard Muybridge with The Autry Museum of the American West on May 15 at 7 pm.
In 1872, the former governor of California Leland Stanford hired photographer Eadweard Muybridge to prove that all of a horse's hoofs left the ground while running. After validating Leland's hypothesis, Muybridge further developed his study of the motion of horses. In 1978 he created one of the first steps toward a moving image by placing 24 shutter-controlled cameras to record the galloping of a horse. 
Accompanying this screening will be a live score by Kite and Devin Ronneberg. 
Kite, aka Suzanne Kite; an Oglála Lakȟóta performance artist, visual artist, and composer raised in Southern California. Her performances, compositions, sculptures, and sound installations showcase the use of experimentation in new media and digital technologies that touch on issues such as non-human and human intelligence, the ethics of extractive technologies, and software design. Recently, Kite has been developing a body interface for movement performances, carbon fibre sculptures, and immersive video and sound installations, as well as co-running the experimental electronic imprint, Unheard Records.
Devin Ronneberg is a multidisciplinary artist born, raised, and living in Los Angeles. Working primarily in sculpture, sound, image-making, networking, engineering, and computational media, his work is currently focused on the unseen implications of emergent technologies and artificial intelligence, information control and collection, and the radiation of invisible forces. Ronneberg co-founded the Los Angeles underground imprint Private Selection Records, and produces, djs, and performs live under the Aerial moniker.
Short Title
Eadweard Muybridge: Human and Animal Locomotion, with a Live Score by Kite & Devin Ronneberg
Policies/Notes
This screening will take place via YouTube live stream.
Primary image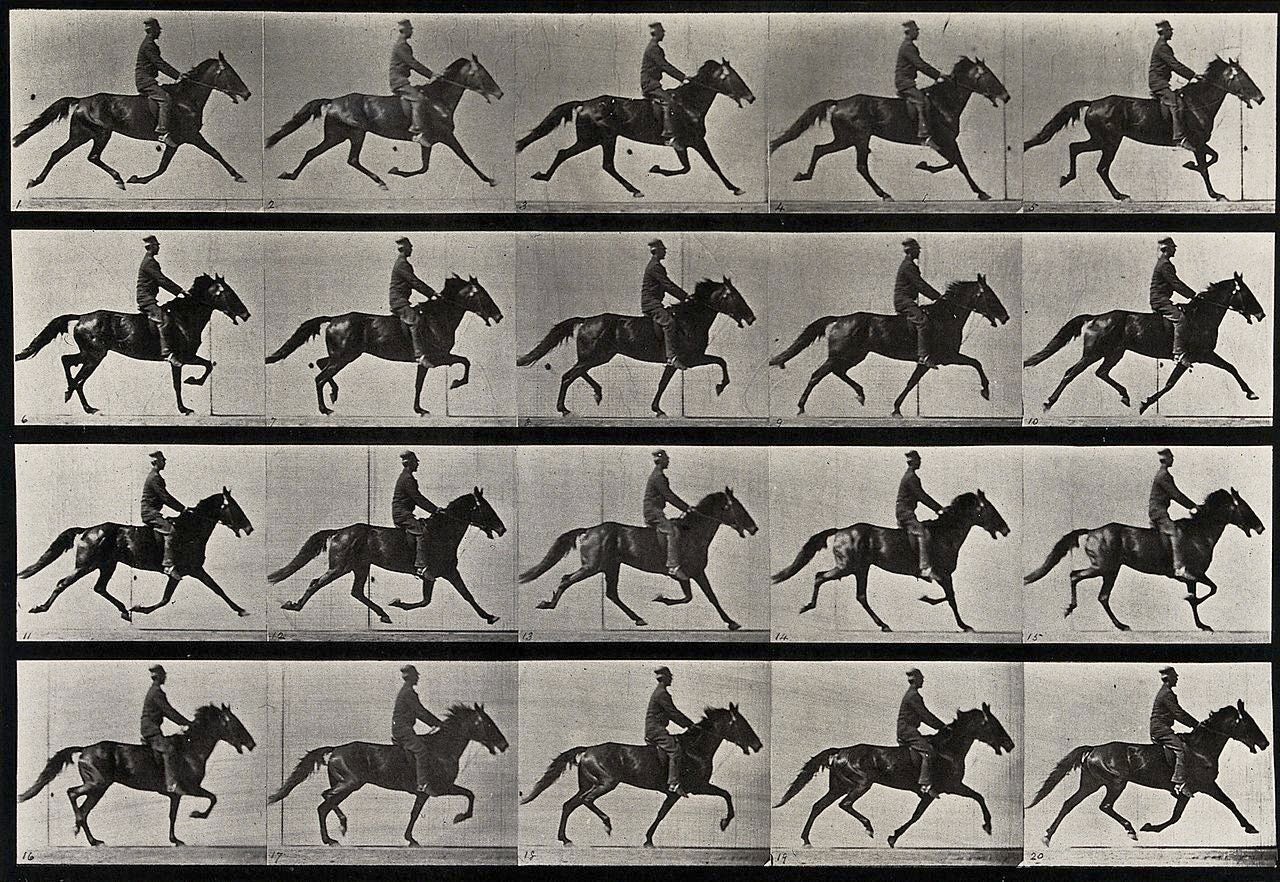 Date
Fri, 05/15/2020 – 19:00
– Fri, 05/15/2020 – 21:00
Mobile tile settings
Image tile format
Exhibition Format
On-sale time
Mon, 11/18/2019 – 18:00
Video
Credit line – Left column
Image: Courtesy of Wellcome Images, a website operated by Wellcome Trust, a global charitable foundation based in the United Kingdom.
Ticket price
Free, no tickets required. 
Module
Source: lacma.org