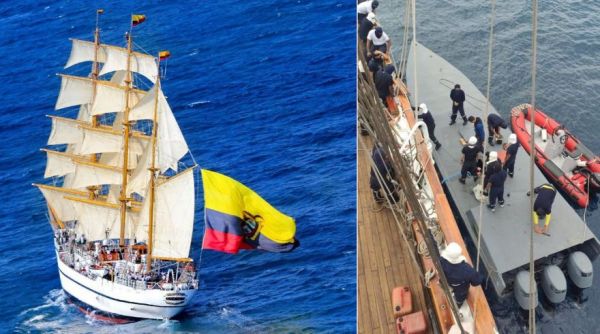 Many navies maintain large sailing vessels in order to train naval officer cadets how to travel the seas the old fashioned way. Although the US Navy doesn't, the US Coast Guard has an impressive three-masted barque for this purpose. Ecuador's Guayas is a similarly built and equipped vessel. Such training vessels rarely engage in combat or even maritime law enforcement.*
Nonetheless, the cadets of the Ecuadorian Navy answered the call intrepidly when it fell to their ship to intercept a customized drug-smuggling vessel. The US Naval Institute news service describes the smugglers' vessel as a low-profile speedboat painted gray and packed with potentially tons of cocaine.
-via Super Punch | Photos: Ecuadorian Navy
*Though, you'd like to read about such a foray in fiction, consider S.M. Stirling's excellent Nantucket trilogy in which the USCGC Eagle is transported back in time.
Source: neatorama