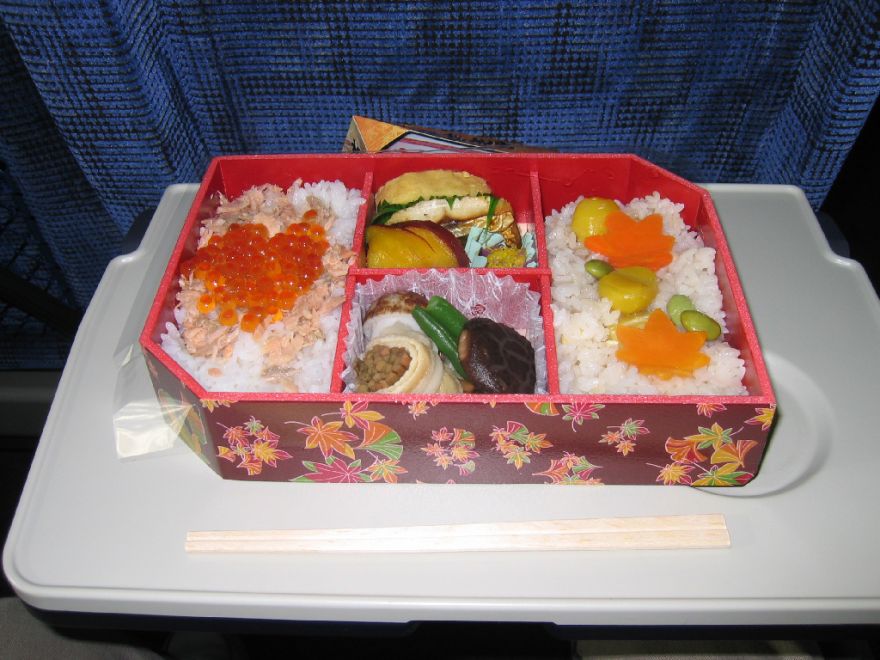 As numerous as the country's stations are Japan's ekiben. Ekiben comes from the words eki (which means station) and ben (short for bento, which means "boxed meal). Each ekiben is different on each station, which makes each ekiben very different from the other. Behind this boxed meal is its colorful origins and Japan's rich food culture.
Ekiben is a bite-size representation of Japan's food culture, portioned out in compartments of beautifully designed bentos that resemble gift boxes. Most contain pieces of chicken, cubes of breaded or grilled fish, tempura, an omelette, and a vegetable assortment of pickled daikon or seaweed arranged around balls of rice with a sprinkling of black sesame or nori. From this basic template (known as makunouchi, meaning "between act" and harkening to the bento served during intermission at kabuki and Noh shows in the Edo period), ekiben expands to include regionally specific novelties. At Hokkaido, for instance, this might mean celebrating the island's cherished Pacific flying squid. Hokkaido's Mori Station offers ikameshi (squid stuffed with a nub of rice and cooked in a special sauce), a dish that became famous during the Second World War when rice was scarce.
Ekiben has been part of Japanese rail travel almost since workers laid the earliest tracks. The first Japanese rail line, from Tokyo to Yokohama, began service in 1872. By 1885, records note, vendors were selling rice balls stuffed with pickled plums in bamboo leaf wrappers at Utsunomiya Station. By the turn of the century, a rapidly expanding rail network was matched in pace by the appearance of ekiben stalls selling boxes of local delicacies: tai meshi (sea bream rice) at Shizuoka station, ayu (fresh river trout) sushi at Yamakita. Initially, vendors peddled ekiben out of trays, coming right up to the train window to eager customers. With the advent of air-conditioned coaches, the call of the ekiben vendor has all but disappeared. Now passengers make a steady canter to ekiben stalls on the station platform during scheduled train stops—a feat that requires speed and hustle. Fortunately, train attendants also sell ekiben from pushcarts.
Know more about the ekiben on Atlas Obscura.
(Image Credit: Fozzibab/ Wikimedia Commons)
Source: neatorama