Toys of today are often loaded with a bevy of technological bells and whistles, but that's not the only thing that makes them fun. Since the late 15th century, wind-up toys have entertained children and adults alike. Designer Emily Fischer of Haptic Lab is carrying on this rich tradition with her version of an ornithopter—a flying machine that makes a flapping wing motion and takes flight. Fisher crafted her toy bird in memory of Martha, the last known living passenger pigeon who died in 1914.
Calling the device the Flying Martha Ornithopter, it's simple to operate. There is a small gear that you wind, and once tightened, release like you would like a paper airplane. The flapping motion—powered by a rubber band—pushes air downward and lifts Martha into the air. Fischer's eye-pleasing design also encourages you to tweak the toy's flight patterns. "Turn the bird's adjustable tail left or right," she offers, "throw it with wings up or down, twist the rubber band clockwise or counterclockwise."
Made out of a bamboo frame with wings of mulberry paper, Martha joins the ranks of Fischer's other birds in her Flying Animals collection. The designer is currently raising funds for production via a Kickstarter campaign. See the wind-up toy in action, below.
Designer Emily Fischer has created a wind-up toy that flies on its own.
Called the Flying Martha Ornithopter, it's an homage to Martha, the last living passenger pigeon who died in 1914.
To use it, simply twist its gear and let go!
Fischer is currently raising funds for production via Kickstarter. One of the rewards is an artist's version of Martha, created by Nic Annette Miller: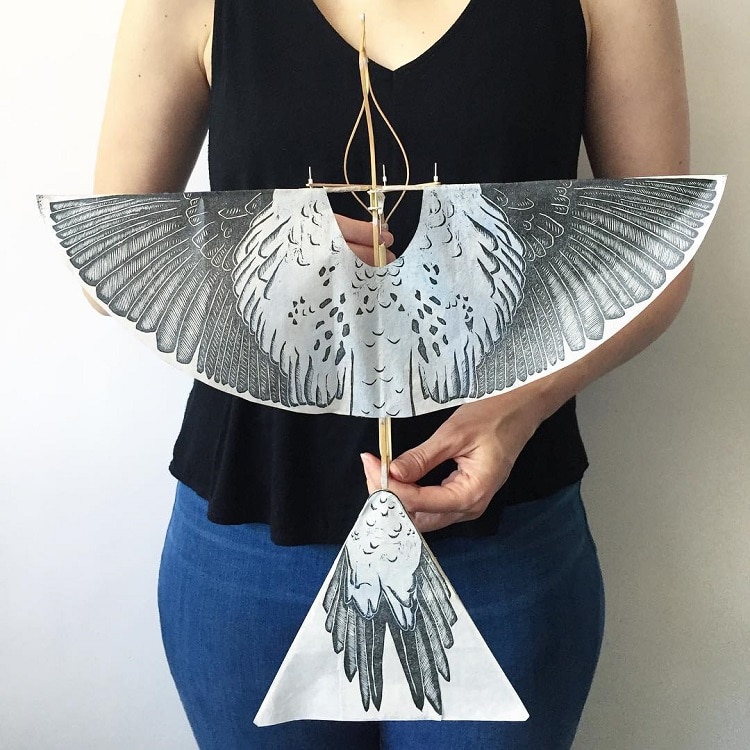 Haptic Lab: Website | Facebook | Instagram | Kickstarter
All images via Haptic Lab.
Related Articles:
LEGO Enthusiast's Bird Models Will Soon Hit the Shelves
Vintage Fabric Bird Models Take Flight in Mirror Dioramas
Kinetic Sculpture Replicates a Bird Flapping Its Wings Using Popsicle Sticks
Spectacular Motorized Flipbooks of Hand-Drawn Birds
Beautiful Scarves Give You Wings Like a Bird
The post Elegant Wind-Up Bird Toy Designed to Actually Fly When You Throw It appeared first on My Modern Met.
Source: mymodernmet.com