Embraer designs the sort of luxuriously appointed executive jets that regularly eclipse the creature comforts and premiere features of many first class airline cabins. With most flights now indefinitely grounded, Embraer Design Ops team has unveiled the Paradigma Chair – an office chair designed to bring some of their jetset aesthetic into the home.
Named after the word paradigm in Portuguese, the Paradigma Chair is envisioned to flip the script with a floating design inspired by some of their most aspirational interior cabin appointments. Where aircraft interiors have traditionally looked to the realms of residential and commercial furniture design for the inspiration, Embraer's design references aircraft interiors seating, specifically the sleek seating from the Embraer Executive Jets Pulse concept with a sew style inspired by the sidewalks of Ipanema Beach in Rio de Janeiro, Brazil, a pattern originally created for Embraer's Bossa Nova interior package for the Praetor and Phenom 300E aircraft.
Even so, one can identify a little bit of the Eames Lounge Chair DNA in the Paradigma's curved wood shell covered with veneer.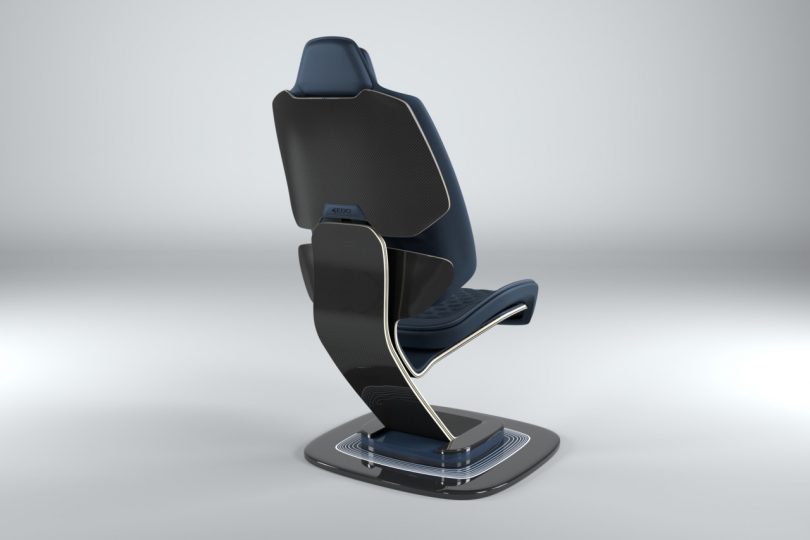 But that veneer does hide a new school trick: through its thin veneer base, users can access a series of backlit capacitive haptic touch switches on the side to adjust seat positioning. The Paradigma Chair tracks and swivels freely, with height adjustment permitting the seat base to move up and down along the spine to accommodate for various heights. Now if only all chairs, whether intended for terra firm or designed for flight, offered this degree of comfort.

Source: design-milk