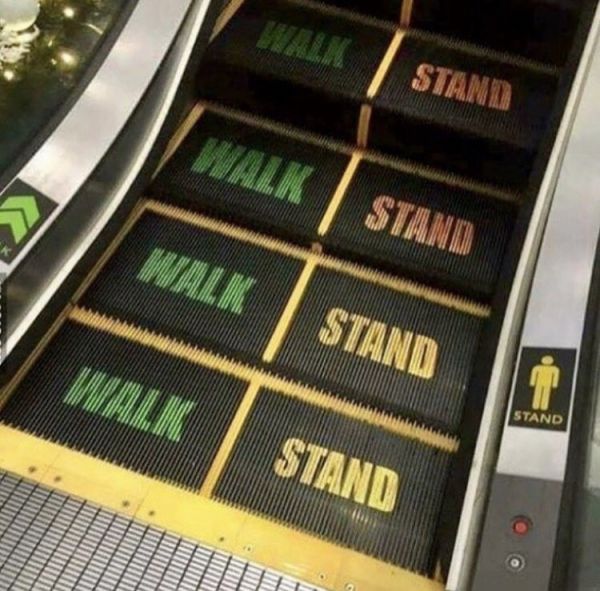 This escalator spells out the rules for you. If you are going to stand still, stay on the right. If you are walking, keep to the left. The discussion at reddit is split between people who assumed everyone knew this, and people who did not know this. It's most important in cities, especially subways and airports, where some people are in a real hurry. Some things I learned from the comments:
People in Japan, Taiwan, and Singapore are very good at following this rule.
In Australia, you stand on the left and walk on the right. Unless those guys are pulling our legs.
Some people in rural areas have never heard this rule, because they only see escalators in department stores and malls, where no one is in that much of a hurry. And escalators in rural areas are often too narrow for passing. Some people from cities think that's because rural people are fat and lazy.
In the District of Columbia, people on the escalator will scold you for breaking the rule. That makes sense, as they have a lot of tourists who get in the way of commuters.
Several commenter told stories of getting angry over people standing in their way, and then finding that the offender was blind, deaf, or missing a limb. Lesson learned.
While studies have shown that standing is more efficient overall, the etiquette remains. So even if you're from Wyoming, stand on the right, walk on the left, and do watch your step on an escalator. And remember, if the escalator stops, you can use them as stairs. Also, there's no need to make fun of people who don't know things.
Source: neatorama